A Call into the VoidThe dreaming cockerel crows thrice, and thunder bellows from the void.You will track down a powerful Talon Archer in a map who will drop a unique item when slain.Right-click to add this prophecy to your character.

Acquisition
DROP RESTRICTED
Seal cost: 2×
Silver Coin

Vendor Offer
1x Scroll FragmentMetadata
Item class: Stackable Currency
A Call into the Void is a prophecy.
Objective
Kill a rare Talon Archer in one of the following locations:
Reward
Talon Archer will drop
Voltaxic RiftVoltaxic Rift
Spine BowBow
Quality: +20%
Physical Damage: 31.2-93.6
Elemental Damage: 1 to (275-325)
Critical Strike Chance: 6.50%
Attacks per Second: (1.54-1.61)
Weapon Range: 120Requires Level 64, 212 DexAdds 1 to (275-325) Lightning Damage
(10-15)% increased Attack Speed
60% of Lightning Damage Converted to Chaos Damage
10% chance to Shock
Your Chaos Damage can Shock
Shock Enemies as though dealing 300% more Damage
Your Shocks can increase Damage taken by up to a maximum of 100%The eldritch storm descended upon us, and bruised lightning
rained down. Metal withered and flesh melted before its
arcane power. There was no escape, no shelter. Only despair.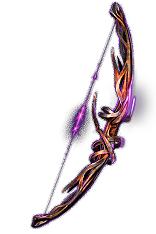 on death.
Item acquisition
Usage in upgrade paths
This item is used by upgrade paths or vendor recipes to create the following items:

Outcome
Amount
Ingredient
General
Notes
Type
Voltaxic RiftVoltaxic Rift
Spine BowBow
Quality: +20%
Physical Damage: 31.2-93.6
Elemental Damage: 1 to (275-325)
Critical Strike Chance: 6.50%
Attacks per Second: (1.54-1.61)
Weapon Range: 120Requires Level 64, 212 DexAdds 1 to (275-325) Lightning Damage
(10-15)% increased Attack Speed
60% of Lightning Damage Converted to Chaos Damage
10% chance to Shock
Your Chaos Damage can Shock
Shock Enemies as though dealing 300% more Damage
Your Shocks can increase Damage taken by up to a maximum of 100%The eldritch storm descended upon us, and bruised lightning
rained down. Metal withered and flesh melted before its
arcane power. There was no escape, no shelter. Only despair.
1
A Call into the Void

A Call into the Void

The dreaming cockerel crows thrice, and thunder bellows from the void.

You will track down a powerful Talon Archer in a map who will drop a unique item when slain.

Right-click to add this prophecy to your character.

Seal Cost:
2x Silver Coin

Prophecy reward

Manual
Version history
| Version | Changes |
| --- | --- |
| 2.3.0 | |