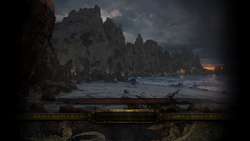 The Abyssal Depths are a side area accessible from Abysses.
Abysses may spawn a portal to the Abyssal Depths instead of an Abyssal Trove. The Depths are a relatively large area of winding passageways that contain a high number of rare enemies as well as Hoards; both may drop Abyss items such as the
Stygian ViseStygian ViseHas 1 Abyssal Socket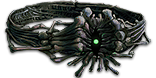 .
The areas have a few internal id: AbyssLeague, AbyssLeague2 as well as AbyssLeagueBoss to AbyssLeagueBoss2.
While AbyssLeagueBoss3 apparently an internal testing area or area that cut from the public version of Abyss league.
The maximum area level (without the effect of atlas passive skill and unique watchstone mod) is 84, which a T16 map (area level 83) can potentially generate an area level 84 Abyssal Depths.
Boss
The boss, situated in a separate arena, is ordinarily the Stygian Spire. This stationary totem continually summons enemies, including rares, and must be defeated in 80 seconds. If this timer expires, the boss despawns.
Abyssal Liches
In rare cases, an Abyssal Lich may spawn as the boss instead, and provide an extended boss fight. At three points in the fight, the Lich disappears and a timer of 1 minute and 30 seconds appears. Players must move to a side area to find and kill the Stygian Spire there and then return to the Lich's arena. The timer does not reset between Spire fights, but it is halted once each Spire has been defeated. This means that players must kill all three Spires in the time provided.
Abyssal Liches can only be encountered in Tier 3 maps or higher.
The Liches include:
Monsters
Items found in this area
There are currently no items that have a drop table specific to this area.
Version history
Version
Changes
3.13.0
3.11.0
3.2.0

Abyss has been rolled into the core game! You can now encounter Abysses in the world from Part II onwards. Each area has approximately a 10% chance to spawn an Abyss.
Abyssal Depths can no longer appear in areas below level 70.

3.1.0
References