Aquamarine Flask
Lasts 5.00 Seconds
Consumes 20 of 50 Charges on use
60% reduced effect of Freeze on you during Flask Effect
Requires Level 27
Creates Chilled Ground on Use
Right click to drink. Can only hold charges while in belt. Refills as you kill monsters.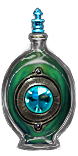 Acquisition
Area level: 27
Vendor Prices
Vendor Offer
1x Scroll Fragment
Metadata
Item class: Utility Flasks
Metadata ID: Metadata/Items/Flasks/FlaskUtility11
Aquamarine Flask
Flask Effect
Aquamarine Flask is a flask base type.
Mechanics
The radius of the chilled ground created on use is 28, and cannot be modified.
Freeze is an ailment that slows the action speed by 100%. With this flask active, it is possible to still move, cast spells and attack even while frozen, with the action speed being lowered to 60% instead of 0%. Modifiers to flask effect can further increase this value.
Aquamarine flask can potentially be a potent choice for "self-freeze" character builds, countering the negative consequences of not being able to act at all. Specified builds utilize niche freeze-related modifiers found on some unique items (like
WinterheartWinterheart
Gold AmuletRequires Level 42(12-20)% increased Rarity of Items found+(20-30) to Dexterity
+(50-70) to maximum Life
+75% to Cold Resistance
Cannot be Chilled
Regenerate 20% of Life per second while FrozenThose who dwell in the deep freeze
enjoy a special kind of madness.

or
Izaro's DilemmaIzaro's Dilemma
Imperial ClawClaw
Quality: +20%
Physical Damage: (72-81) to (184-207)
Critical Strike Chance: 6.00%
Attacks per Second: (1.76-1.84)
Weapon Range: 11Requires Level 68, 131 Dex, 95 Int+46 Life gained for each Enemy hit by Attacks(40-60)% increased Physical Damage
Adds 20 to 50 Physical Damage
(10-15)% increased Attack Speed
+(300-400) to Accuracy Rating
100% increased Global Physical Damage while FrozenIzaro saw himself not as a man,
but as a divine saviour trapped in a man's body.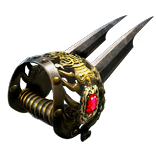 ).
Unique versions
There are currently no unique items for this base item type.
Item acquisition
Upgrade paths
This item can be acquired through the following upgrade paths or vendor recipes:

Amount
Ingredient
General
Notes
Type
4
The Surgeon

The Surgeon

4

Surgeon's Flask"He might be lacking in vision, but his virtuosity is undeniable."
- Malachai, on Maligaro
random Surgeon'sSurgeon's
Prefix
20% chance to gain a Flask Charge when you deal a Critical Strike flask
Automatic
1
The Void

The Void

1

Reach into the Void and claim your prize.

random divination card set exchange
Automatic
Quest reward
This item is given as a quest reward for the following quests:
Gallery
Version history
Version
Changes
3.15.0d

Aquamarine Flask now grants 60% reduced Effect of Freeze on you (previously 40%).

3.15.0

Aquamarine Flask no longer grants 20% chance to Avoid Cold Damage when Hit.
It now grants 40% reduced effect of Freeze on you during Flask Effect.
Chilled Ground Radius is now 28 (previously 16).
Now consumes 20 of 50 Charges on use (previously 15 of 40).

2.2.0