Ashen Wood Map
Ashen Wood Map
Map Level: 70
Map Tier: 3
Guild Character: K
Desperately reaching skyward
and digging downwards.
Sustenance is an
eternal struggle.
Travel to this Map by using it in a personal Map Device. Maps can only be used once.
Additional Information
Region Upgrades Chart
Upgrade Level
0
1
2
3
4
Tier
3
7
10
11
14
Map Level
70
74
77
78
81
Connections
Arena Map (Ritual)
✓
✗
✗
✗
✗
Arid Lake Map (Ritual)
✓
✓
✓
✓
✓
Dark Forest Map (Ritual)
✗
✓
✓
✓
✓
Orchard Map (Ritual)
✓
✓
✓
✓
✓
Pier Map (Ritual)
✓
✓
✓
✓
✓
Primordial Blocks Map (Ritual)
✓
✓
✓
✓
✓
Acquisition
Level: 69
Purchase Costs
Sell Price
1x Scroll Fragment
Miscellaneous
Item class: Maps
| | |
| --- | --- |
| Id | MapWorldsAshenWood |
| Act | 11 |
| Area level | 73 |
| Bosses | Lord of the Ashen Arrow |
| Area type tags | forest |
| Tags | map, einharmaps, fields_area, forest_map_area |
| | The Shaper: Desperately reaching skyward and digging downwards. Sustenance is an eternal struggle. |
Desperately reaching skyward

and digging downwards. Sustenance is an

eternal struggle.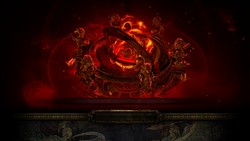 Layout
The map is one large continuous area sprinkled with lots of small walls that only sometimes can be passed with movement skills. The boss doesn't have a separate arena. He waits near a camp with tents. The map was based on Act 2 area The Old Fields and similar to The Ashen Fields that released in Version 3.0.0.
Encounters
Boss
Lord of the Ashen Arrow, a unique bandit with a bow.
Boss video
Items found in this area
Item
The Pack Leader

The Pack Leader

6

Alpha's Howl

Become the leader you were born to be.

1
The Scarred Meadow

The Scarred Meadow

9

Wake of Destruction

The earth offers nourishment, growth and healing. Unless, of course, the sky has other plans.

1
The Gambler

The Gambler

5

Divination Card

"I don't believe in karma. If it were real, I would never win."

1
The Encroaching Darkness

The Encroaching Darkness

8

Map
Corrupted

No matter where your dreams take you, Nightmare follows close behind.

1
The Flora's Gift

The Flora's Gift

5

Five-Link Staff


Item Level:

66

Sturdy and strong,
grown from the stream.
The Flora that live here,
A combatant's dream.
1
The Enlightened

The Enlightened

6

Level 3 EnlightenWeaving the six,
a serpent stands tall.
Wearing a crown,
the thousand petals call.
1
Tranquillity

Tranquillity

7

Voltaxic Rift

Beware the sudden calm, for it is a sure sign of a storm on the horizon.

1
Her Mask

Her Mask

4

Sacrifice FragmentTo her beauty you submit,
lest your neck the great Queen slit.
1
Item acquisition
Upgrade paths
This item can be acquired through the following upgrade paths or vendor recipes:

Amount
Ingredient
General
Notes
Type
4
Boundless Realms

Boundless Realms

4

Map

Boundless is the distance between where we start and where we start again.

random Map
Automatic
6
The Explorer

The Explorer

6

Map
Corrupted

A map is only useful if you know where you stand.

random corrupted Map
Automatic
Unique versions
There are currently no unique items for this base item type.
Version history
Version
Changes
3.6.0

The Atlas of Worlds has been shuffled. Most maps have changed tier and location within the Atlas.

3.5.0

The Atlas of Worlds has been shuffled. Most maps have changed tier and location within the Atlas.
Many map bosses have also shifted around. Some have been retired and replaced!

3.1.0

The entire Atlas has been reworked. Many map names have changed, as have their balance, tier and position on the Atlas. Many maps have also had their boss fights swapped or completely reworked.
The rules used to generate monsters in endgame maps have been significantly reworked and rebalanced around the rate at which we expect players to reliably clear out the map. In general, narrow, linear maps will contain fewer total monsters than maps with complex layouts. We will be closely monitoring and adjusting the balance of this change and expect to make further changes and improvements over time.

2.4.0

Name changed from Dry Woods Map to Ashen Wood Map.
Most existing maps have been revamped to have more balanced monster composition, layouts, boss fights and rewards.

0.10.0

The following Map areas have been updated so that they're substantially different in layout to before: Spider Forest

Spider Forest Map

Map Level: 69
Map Tier: 4
Guild Character: Ó

Travel to this Map by using it in the Templar Laboratory or a personal Map Device. Maps can only be used once.

, Jungle Valley

Jungle Valley Map

Map Level: 72
Map Tier: 7
Guild Character: 3

Travel to this Map by using it in the Templar Laboratory or a personal Map Device. Maps can only be used once.

, Waste Pool

Waste Pool Map

Map Level: 72
Map Tier: 7
Guild Character: 1

Travel to this Map by using it in the Templar Laboratory or a personal Map Device. Maps can only be used once.

, Dry Woods

Ashen Wood Map

Map Level: 71
Map Tier: 6
Guild Character: Œ

Travel to this Map by using it in a personal Map Device. Maps can only be used once.

, Cemetery

Cemetery Map

Map Level: 67
Map Tier: 2
Guild Character: C

Travel to this Map by using it in the Templar Laboratory or a personal Map Device. Maps can only be used once.

, Mine

Flooded Mine Map

Map Level: 72
Map Tier: 7
Guild Character: 2

Travel to this Map by using it in the Templar Laboratory or a personal Map Device. Maps can only be used once.

, Underground Sea

Underground Sea Map

Map Level: 74
Map Tier: 9
Guild Character: 9

Travel to this Map by using it in the Templar Laboratory or a personal Map Device. Maps can only be used once.

, Bog

Bog Map

Map Level: 70
Map Tier: 5
Guild Character: Ú

Travel to this Map by using it in the Templar Laboratory or a personal Map Device. Maps can only be used once.

, Plateau

Plateau Map

Map Level: 75
Map Tier: 10
Guild Character: )

Travel to this Map by using it in the Templar Laboratory or a personal Map Device. Maps can only be used once.

and Dunes

Dunes Map

Map Level: 66
Map Tier: 1
Guild Character: U

Travel to this Map by using it in the Templar Laboratory or a personal Map Device. Maps can only be used once.

.

0.9.11