Asphyxia's Wrath
Two-Point Arrow Quiver
Requires Level 10
(20-30)% increased Global Accuracy Rating
Grants Level 5 Frostbite Skill
(8-12)% increased Attack Speed
+(30-40)% to Cold Resistance
(30-40)% increased Chill Duration on Enemies
Gain 20% of Physical Damage as Extra Cold Damage
(7-10)% chance to Freeze
Hexes on Slain Enemies are transferred to a nearby Enemy
Mist of breath
Icing to lips and throat
As the warm ones choke and fall
Upon the frozen wasteland.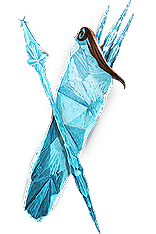 Vendor Prices
Vendor Offer
18x Alchemy Shard
4x Alteration Shard
Metadata
Item class: Quivers
Asphyxia's Wrath is a unique
Two-Point Arrow QuiverTwo-Point Arrow QuiverRequires Level 4(20-30)% increased Global Accuracy Rating
.
Item acquisition
Upgrade paths
This item can be acquired through the following upgrade paths or vendor recipes:

Amount
Ingredient
General
Notes
Type
7
Prejudice

Prejudice

7

Item


Influenced ItemOne who is blinded by their past may
only see a sliver of the present.
random influenced item
Automatic
8
Arrogance of the Vaal

Arrogance of the Vaal

8

Item


Two-Implicit


Corrupted

Discovery can lead to beauty, or it can lead to ruin.

random two-implicit corrupted item
Automatic
4
Jack in the Box

Jack in the Box

4

ItemTurn the crank,
close your eyes,
and pray to the gods
for a pleasant surprise.
random item
Automatic
1
Singular Incubator

Singular Incubator

Adds an incubated Unique item to an equippable item
Item drops after killing # monsters

Unique Item

Right click this item then left click an item to apply it. The Incubated item drops after killing a specific number of monsters.

random item
Automatic
1
The Void

The Void

1

Reach into the Void and claim your prize.

random divination card set exchange
Automatic
Legacy variants
Asphyxia's Wrath has a legacy variant.
Version Discontinued
Modifiers
3.0.0




(20-30)% increased Accuracy Rating

Grants level 5 Frostbite Skill

(8-12)% increased Attack Speed
+(30-40)% to Cold Resistance
(30-40)% increased Chill Duration on Enemies

20% of physical damage converted to cold damage

Gain 20% of Physical Damage as Extra Cold Damage

(7-10)% chance to Freeze

40% reduced Area of Effect of Curse Skills

Curses on Slain Enemies are transferred to a nearby Enemy
Alternate artwork
Gallery
Version history
Version
Changes
3.0.0

No longer has 40% reduced area effect of curses.
No longer has 20% of physical damage converted to cold damage.
Now grants 20% of physical damage added as extra cold damage.
Now grants level 5 Frostbite

Frostbite

Spell, AoE, Duration, Cold, Curse, Hex
Level: (1-20)
Cost: (24-50) Mana
Cast Time: 0.50 sec
Radius: 22Requires Level 24

Curses all targets in an area, lowering their cold resistance and giving them a chance to be frozen when hit.

Per 1% Quality:1

Superior

2

Anomalous

3

Divergent

Freezes on Cursed enemies have 1% increased Duration

Curses inflicted by this Skill have +0.25 to maximum Doom

Hits against Cursed Enemies have +1% chance to Freeze

Base duration is (9-10.9) seconds
Cursed enemies have -(25-44)% to Cold Resistance
Hits against Cursed Enemies have +25% chance to Freeze
Curse gains 10 Doom per second if you Cast this Spell yourself
+(0-10) to radius

Place into an item socket of the right colour to gain this skill. Right click to remove from a socket.

. Doubled the radius at which curses can spread.

1.3.0

Introduced 3D art for this item.

1.1.3