This article describes historical game content.
See Atlas Mission.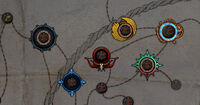 Atlas objectives are markers on the Atlas of Worlds that show that a specific master is in that map and available with a mission.[1] These repopulate every day at midnight UTC.
Atlas objectives also have a chance to be generated when a map is completed 20% of the time.[2] If an Atlas objective is added for a specific master and there is still an incomplete mission for that master on the Atlas, then the existing one is moved to the new location.
The map tier that Atlas objectives spawn at is loosely based on the last opened map in that league.
Version history
Version
Changes
3.8.0
3.6.0

Jun's Atlas Objectives will now begin appearing on the Atlas.
Atlas Objectives now have a 20% chance to appear (from 16.6%).

3.5.0
References