Backstreet Hideout
Hideout area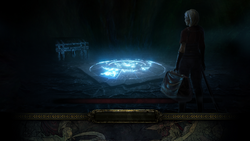 Backstreet Hideout is the hideout of Vorici, Master Assassin. It uses the Sarn tileset.
The three sizes of hideout have 1, 2 or 3 rooms. Each room is a square courtyard in the style of The Slums, connected by stairs.
Unlocking
Backstreet Hideout can be found in
Arcade MapArcade MapMap Level: 68
Map Tier: 1
Guild Character: +We create so that some part of us may remain after death.Travel to this Map by using it in a personal Map Device. Maps can only be used once.
.