Battle-scarred Hideout
Hideout area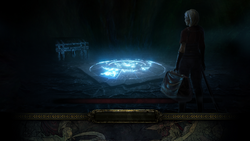 Battle-scarred Hideout is the hideout of Vagan, Weaponmaster. It uses the Barracks tileset.
The Battle-scarred hideout is much more brightly lit than the storyline Barracks areas and is more in the style of Promenade Map.
The waypoint is at the centre of a square platform with stairs down to the extension areas.
Unlocking
Battle-scarred Hideout can be found in
Promenade MapPromenade MapMap Level: 69
Map Tier: 2
Guild Character: ;Even the greatest achievements
will eventually be abandoned.Travel to this Map by using it in a personal Map Device. Maps can only be used once.
.