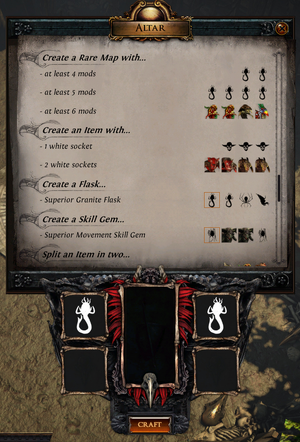 Beastcrafting is a method of crafting by sacrificing beasts to the blood altar in the Menagerie. Each beastcrafing recipe requires four beasts to be sacrificed, with most of them requiring one specific Red Beast and three Rare Beasts. The four chosen beasts are released into the arena surrounding the blood altar and must be killed to complete the recipe. If the player dies during the attempt, the recipe fails and the beasts are lost.
If an item is created, the resulting item level is equal to the level of the main beast sacrificed. Recipes that create unique items can generate league-specific uniques.
List of beast recipes
The table below displays the resulting crafts when sacrificing to the blood altar. Table has not been updated for 3.16 yet.
Tips
Splitting a rare item into two can turn one or both copies into a magic item depending on the remaining mod count. It then gains the Split modifier which cannot be removed and can potentially "contaminate" the item.
Version history
Version
Changes
3.14.0

Added 10 new Beastcrafting recipes.
Splitting an item through Beastcrafting now applies a Split modifier to both items, preventing further splitting.
(Not in patch note) The Sword beastcrafting recipe is merged with Axe

3.5.0

Beastcrafting was enabled in the core game.
Beastcrafting recipes have been completely reworked and simplified.

3.2.0b

Re-enabled the three Beastcrafting recipes that were disabled earlier today. The recipe for splitting an item in two has been made a little more difficult by swapping out two of the beasts for rarer ones.
The recipe for splitting an item in two no longer works on items with Labyrinth Enchant mods. It intentionally will still copy sockets/links and this is why it is somewhat harder to achieve now.
Fixed a bug where the recipe for splitting an item in two would work on Shaped Items, Elder Items and Corrupted Items.

3.2.0