Belt of the Deceiver
Heavy Belt
Requires Level 20
+(25-35) to Strength
(15-25)% increased Global Physical Damage
You take 30% reduced Extra Damage from Critical Strikes
+(30-40) to maximum Life
+(10-15)% to all Elemental Resistances
Nearby Enemies are Intimidated
In battle, virtue matters not.
Only victory.
Vendor Prices
Vendor Offer
14x Alchemy Shard
13x Alteration Shard
Metadata
Item class: Belts
Belt of the Deceiver is a unique
Heavy BeltHeavy BeltRequires Level 8+(25-35) to Strength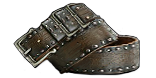 .
Interactions
The You take 30% reduced Extra Damage from Critical Strikes modifier on Belt of the Deceiver stacks with the You take 20% reduced Extra Damage from Critical Strikes modifier on Sanctum of Thought.
The unique modifier Take no Extra Damage from Critical Strikes on
The Brass DomeThe Brass Dome
Gladiator PlateQuality: +20%
Armour: (5313-5682)
Movement Speed: -5%Requires Level 65, 177 Str30% reduced Chance to Block Attack and Spell Damage
(600-650)% increased Armour
10% reduced Movement Speed
50% increased Shock Duration on you
Take no Extra Damage from Critical StrikesThe turtle's shell one day becomes its tomb.
renders Belt of the Deceiver redundant.
Nearby enemies are Intimidated. This range is approximately 25 unit.
Item acquisition
Upgrade paths
This item can be acquired through the following upgrade paths or vendor recipes:

Amount
Ingredient
General
Notes
Type
4
The Deceiver

The Deceiver

4

Belt of the Deceiver
Corrupted

Beware the combatant who shows no confidence, yet still enters the ring, for they are surely hiding something.

corrupted

Belt of the Deceiver

Manual
6
The Wretched

The Wretched

6

Belt

Necromancers, believe me, are more terrifying than their thralls.

random belt
Automatic
6
The Cache

The Cache

6

Jewellery

Vintage or crafted, Glittering and shiny
Dusty or glittering, huge or tiny
Secured within a chest
or unearthed from your mining
Find jewellery everywhere,
no need for divining!
So why is it so hard
to figure out which one to wear?
This one makes me stronger,
but does it match my hair?
random jewellery
Automatic
7
Prejudice

Prejudice

7

Item


Influenced ItemOne who is blinded by their past may
only see a sliver of the present.
random influenced item
Automatic
8
Arrogance of the Vaal

Arrogance of the Vaal

8

Item


Two-Implicit


Corrupted

Discovery can lead to beauty, or it can lead to ruin.

random two-implicit corrupted item
Automatic
4
Jack in the Box

Jack in the Box

4

ItemTurn the crank,
close your eyes,
and pray to the gods
for a pleasant surprise.
random item
Automatic
1
Singular Incubator

Singular Incubator

Adds an incubated Unique item to an equippable item
Item drops after killing # monsters

Unique Item

Right click this item then left click an item to apply it. The Incubated item drops after killing a specific number of monsters.

random item
Automatic
1
The Void

The Void

1

Reach into the Void and claim your prize.

random divination card set exchange
Automatic
Legacy variants
Belt of the Deceiver has a legacy variant.
Version Discontinued
Modifiers
2.6.0




+(25-35) to Strength

10% reduced Chance to Block Attacks and Spells

(15 to 25)% increased Physical Damage

You take 30% reduced Extra Damage from Critical Strikes

+30-40 to maximum Life

+(6–10) to all Elemental Resistances

Nearby Enemies are Intimidated
Gallery
Version history
Version
Changes
2.6.0

The following changes cannot be obtained by rerolling the item's mods with a Divine Orb:

No longer has Reduced Chance to Block.
All Resistances mod increased to 10-15%.
Now has the property of Nearby enemies are intimidated.

1.3.0