"Beyond" redirects here. For the temporary league, see
Beyond league
.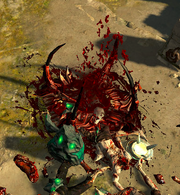 Beyond Demons are interdimensional unique monsters introduced in Forsaken Masters expansion for the Beyond league. When you kill a monster, there is a chance that a small crimson orb appears on the ground. If four of these appear close to each other (roughly one screen), they open portals that spawn regular demons. They are quite tough. If these die, they have a chance to leave some kind of organic bloody fountain on the location where they were spawned. If three of these appear close to each other, they spawn a unique boss that's extremely difficult to kill or even escape.
After the Beyond league ended, Beyond Demons were not added to the core game. They can still spawn in maps altered by Zana's map device and are available as a map mod: OtherworldlyOtherworldly
Prefix
10% increased Quantity of Items found in this Area
6% increased Rarity of Items found in this Area
+4% Monster pack size
Slaying Enemies close together has a 13% chance to attract monsters from Beyond. They also appear in magic packs with the Voidspawn of Abaxoth Bloodline mod.
Monsters
Unique monsters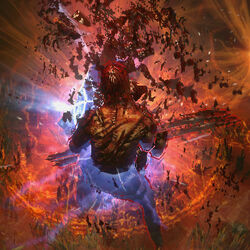 Regular monsters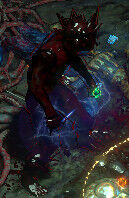 They look like regular monsters with an unearthly red colouration. They use a lot of dangerous skills and may spawn with uncommon monster affixes. They spawn from small portals if there is enough of them close to each other (on an area that would fit one screen approximately). One of them is always rare and others are magical (this often creates funny names, like Servant of Haast of Flames). The rare one can have a nemesis mod, but the magical ones will never have bloodline affixes. When they die, they leave a bloody puddle instead of a corpse (soul conduit does not affect them, if they have it then it doesn't even revive other monsters), but give experience and drop items (though not many). You can encounter normal Beyond Demons only by killing one with the Fractured Nemesis Mod (killing these does not create portals).