Bisco's Leash
Heavy Belt
Requires Level 30
+(25-35) to Strength
5% increased Quantity of Items found
+(20-40)% to Cold Resistance
1% increased Rarity of Items found per 15 Rampage Kills
Rampage
You were always there, by my side,
whether we sat or played.
Our friendship was a joyful ride,
I wish you could have stayed.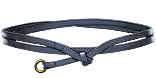 Vendor Prices
Vendor Offer
12x Alchemy Shard
1x Alteration Shard
Metadata
Item class: Belts
Bisco's Leash is a unique
Heavy BeltHeavy BeltRequires Level 8+(25-35) to Strength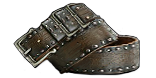 .
Item acquisition
Upgrade paths
This item can be acquired through the following upgrade paths or vendor recipes:

Amount
Ingredient
General
Notes
Type
6
The Wretched

The Wretched

6

Belt

Necromancers, believe me, are more terrifying than their thralls.

random belt
Automatic
6
The Cache

The Cache

6

Jewellery

Vintage or crafted, Glittering and shiny
Dusty or glittering, huge or tiny
Secured within a chest
or unearthed from your mining
Find jewellery everywhere,
no need for divining!
So why is it so hard
to figure out which one to wear?
This one makes me stronger,
but does it match my hair?
random jewellery
Automatic
7
Prejudice

Prejudice

7

Item


Influenced ItemOne who is blinded by their past may
only see a sliver of the present.
random influenced item
Automatic
8
Arrogance of the Vaal

Arrogance of the Vaal

8

Item


Two-Implicit


Corrupted

Discovery can lead to beauty, or it can lead to ruin.

random two-implicit corrupted item
Automatic
4
Jack in the Box

Jack in the Box

4

ItemTurn the crank,
close your eyes,
and pray to the gods
for a pleasant surprise.
random item
Automatic
1
Singular Incubator

Singular Incubator

Adds an incubated Unique item to an equippable item
Item drops after killing # monsters

Unique Item

Right click this item then left click an item to apply it. The Incubated item drops after killing a specific number of monsters.

random item
Automatic
1
The Void

The Void

1

Reach into the Void and claim your prize.

random divination card set exchange
Automatic
Supporter attribution
Bisco's Leash was created by a supporter who goes by the username biscosdaddy on Reddit. Along with
Bisco's CollarBisco's Collar
Gold AmuletRequires Level 30(12-20)% increased Rarity of Items found(100-150)% increased Rarity of Items Dropped by Slain Magic Enemies
(35-50)% increased Quantity of Items Dropped by Slain Normal EnemiesFriendship worth its weight in gold,
a treasure every day.
I thought together we'd grow old,
until fate pulled you away.

, it serves as a tribute to its creator's Welsh Corgi, Bisco, who was diagnosed with cancer.[1]
Version history
| Version | Changes |
| --- | --- |
| 2.6.0 | |
References