Quick Guide: This article has a quick guide that shows you how to use the Scout Tower strategy to complete a Blighted Map encounter.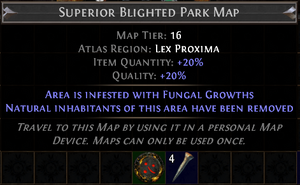 Blighted maps are alternate versions of existing maps that contain a more challenging Blight encounter than is normally found on maps. These maps have all the native monsters removed and are dedicated to the Blight encounter.
The map will always have an alternative map icon, as well as these implicit modifiers:
Area is infested with Fungal Growths

Natural inhabitants of this area have been removed
Regular Blight encounters in maps have a chance to drop a Blighted version of a map.
Mechanics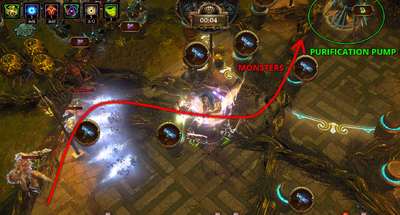 Blighted maps only contain a small area with no enemies and a single Fungal Growth that spawns dozens of roots. Multiple waves of monsters will spawn from monster portals all across the map. Monsters move along a fixed route towards the Purification Pump. The player must defend the Purification Pump for 5 minutes, and then defeat all remaining monsters in order to complete the map and grant the rewards. Compared to regular Blight encounters in maps, in Blighted maps players get extended preparation time and Pump durability (health) is increased to 20 (up from 10).
Similar to regular maps:
Blighted maps are available in different tiers, with the highest being Tier 16.
Higher tier maps have tougher monsters and can drop rarer, more valuable rewards
The Atlas Awakening Level affects the difficulty of the monsters and bosses, with Awakening 8+ being the hardest.[1]
Blighted maps can be increased in quality using Cartographer's Chisel

Cartographer's Chisel

Stack Size: 20

Improves the quality of a map

Right click this item then left click a map to apply it. Has greater effect on lower-rarity maps. The maximum quality is 20%.
Shift click to unstack.s
Players can craft the map into

Magic

or

Rare

rarities, but it greatly increases the difficulty of combat.
Running a Blighted map in

Normal

rarity provides for the easiest combat.
Blighted map rarity affects the reward chests and the central drops.
Unlike regular maps:
If you fail the blight encounter, it will not count as a map completion.
Strategy
Blighted maps have a large amount of enemies and a large amount of resources for tower building. The same strategies that work on smaller Blights in maps will be useful, but more tower building and killing will be involved.
Recommendations
The following is recommended:
A ranger or spellcaster build or any build that can do high amounts of area damage (melee builds using Cyclone

Cyclone

Attack, AoE, Movement, Channelling, Physical, Melee
Level: (1-20)
Cost: 2 Mana
Attack Speed: 300% of base
Attack Damage: (44-54)% of base
Effectiveness of Added Damage: (44-54)%Requires Level 28

Channel this skill to move towards a targeted location while spinning, building up stages while constantly attacking enemies in an area around you. While channelling this skill, you cannot be knocked back.

Per 1% Quality:1

Superior

2

Anomalous

3

Divergent

4

Phantasmal

0.5% increased Area of Effect

1% chance to Knock Enemies Back on hit

0.25% more Movement Speed

1% Chance to Avoid Interruption from Stuns While Using this Skill

Deals (44-54)% of Base Attack Damage
30% less Movement Speed
First Hit deals 50% less Damage
Gains 1 Stage every (0.33-0.17) seconds while Channelling
+1 to radius per Stage
Lose 1 Stage every 0.33 seconds while not Channelling
(5-28) to (8-42) Added Attack Physical Damage
Maximum (3-6) Stages
8% increased Area of Effect per 1 additional Melee Strike Range

Place into an item socket of the right colour to gain this skill. Right click to remove from a socket.

without cast-on-crit will find it hard, because monsters attack the center from every direction)
To run

Normal

blighted maps: At least 2 million damage per second (calculated in Path of Building)
To run

Magic

blighted maps: At least 10 million damage per second
To run

Rare

blighted maps: At least 20 million damage per second
A method to increase damage against

Rare

and

Unique

mini bosses (such as Assassin's Mark for crit-builds, or Sigil of Power for lightning-builds)
Capped elemental resistances (fire, cold and lightning resistance at 75%)
At least 5,000 Effective hit points (Life pool)
At least 20% block or evade chance, or Mana before Life defenses
A strict loot filter that filters out most of the inexpensive loot
Annointments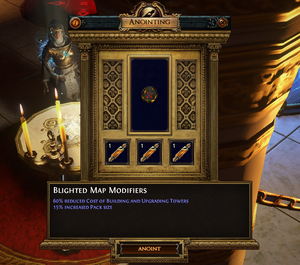 Sister Cassia can annoint your blighted map to increase the ease of combat, and/or to increase rewards. It is easy to self-sustain oils for these annointments because blighted maps provide a large number of oils upon successful completion.
Annointing tips are as follows:
For T14 and lower maps:
For T15 or T16 maps:
Rewards
Completing a blighted map will grant 10+ of a random selection of these chest types:
Image
Type
Typical drops
Random
Random assortment of items including armour, weapons and common currency
Blight
Oils, small chance for rare oils like Silver Oil

Silver Oil

Stack Size: 10
Oil Tier: 12Can be combined with other Oils at Cassia to Enchant Rings or Amulets, or to modify Blighted Maps.
Shift click to unstack., Golden Oil

Golden Oil

Stack Size: 10
Oil Tier: 13Can be combined with other Oils at Cassia to Enchant Rings or Amulets, or to modify Blighted Maps.
Shift click to unstack. and Blighted Maps
Currency
Common currency, can contain Chaos Orb

Chaos Orb

Stack Size: 10

Reforges a rare item with new random modifiers

Right click this item then left click a rare item to apply it.
Shift click to unstack.s
Small chance for Exalted Orb

Exalted Orb

Stack Size: 10

Augments a rare item with a new random modifier

Right click this item then left click a rare item to apply it. Rare items can have up to six random modifiers.

s, Exalted Shard

Exalted Shard

Stack Size: 20A stack of 20 shards becomes an Exalted Orb.
Shift click to unstack.s, Ancient Shard

Ancient Shard

Stack Size: 20A stack of 20 shards becomes an Ancient Orb.
Shift click to unstack.s, Divine Orb

Divine Orb

Stack Size: 10

Randomises the numeric values of the random modifiers on an item

Right click this item then left click a magic, rare or unique item to apply it.
Shift click to unstack.s
Harbinger
Harbinger's Orb

Harbinger's Orb

Stack Size: 20

Reforges a map item as another of a higher tier

Right click this item then left click a map to apply it.
Shift click to unstack.s, Beachhead map, Small chance for Ancient Orb

Ancient Orb

Stack Size: 20

Reforges a unique item as another of the same item class

Right click this item then left click a unique item to apply it.
Shift click to unstack.s & Exalted Shard

Exalted Shard

Stack Size: 20A stack of 20 shards becomes an Exalted Orb.
Shift click to unstack.s
Jewelry
Rings, Amulets, Jewels, Abyss Jewels and Belts, which may be veiled, fractured, or influenced
Divination Cards
0-4 Stacked Deck

Stacked Deck

Stack Size: 10

A stack of unknown divination cards

Right click to take a divination card out of the deck.
Shift click to unstack.s, Random cards
Fossils
Fossils, Resonators
Map Fragments
Scarabs, Sacrifice at Dusk

Sacrifice at Dusk

Item Quantity: +5%

5% increased Quantity of Items found in this Area

The Vaal shall never fear the setting of our sun.

Can be used in a personal Map Device.

/Dawn/Noon/Midnight,
Offering to the Goddess

Offering to the Goddess

It is time for the Goddess to give her final verdict.
Your fate rests in her even hands.

Travel to the Aspirants' Plaza and spend this item to open the Eternal Labyrinth. You must have completed the six different Trials of Ascendancy found in Maps in order to access this area.

, Small chance for valuable map fragments
Maps
Valuable white and yellow maps (T1 to T10). Small chance for red maps (T11+).
Uniques
Low level unique items, small chance for unique maps and valuable uniques like Inspired LearningInspired Learning
Crimson JewelRadius: SmallWith 4 Notables Allocated in Radius, When you Kill a Rare monster, you gain 1 of its Modifiers for 20 secondsIf you do not learn from a won battle
then you have already lost the war.

Place into an allocated Jewel Socket on the Passive Skill Tree. Right click to remove from the Socket.

.
Armour
Armour, some of which may be veiled, fractured, 30 quality, or influenced
Weapons
Weapons, some of which may be veiled, fractured, 30 quality, or influenced
Abyss
Abyss Jewels, Stygian Vise belts
Essences
All tiers of Essences, small chance for Deafening Essences or Essence of Horror

Essence of Horror

Stack Size: 9
Essence Tier: 8Upgrades a normal item to rare or reforges a rare item, guaranteeing one property

Weapon: 16% chance to gain a Power, Frenzy or Endurance Charge on Kill
Gloves: Socketed Gems have +3.5% Critical Strike Chance
Boots: 5% reduced Elemental Damage Taken while stationary
Body Armour: 15% of Physical Damage from Hits taken as Cold Damage
Helmet: Socketed Gems deal 30% more Elemental Damage
Shield: Chill Nearby Enemies when you Block
Quiver: 4 to 7 Cold Damage per Frenzy Charge
Amulet: 15% increased Effect of Fortify on you
Ring: 4 to 7 Cold Damage per Frenzy Charge
Belt: 5% additional Physical Damage Reduction during any Flask EffectRight click this item then left click a normal or rare item to apply it.
Shift click to unstack.
Gems
Skill gems, which may have levels and quality.
Does not contain Anomalous/Divergent/Awakened/Phantasmal gems
Prophecy
Random prophecies
Talismans
Corrupted Talismans
Labyrinth
Offering to the Goddess

Offering to the Goddess

It is time for the Goddess to give her final verdict.
Your fate rests in her even hands.

Travel to the Aspirants' Plaza and spend this item to open the Eternal Labyrinth. You must have completed the six different Trials of Ascendancy found in Maps in order to access this area.

, Rare armour that has a Labyrinth Enchantment applied
Metamorph
Catalysts for rings & amulets, small chance for valuable Fertile Catalyst

Fertile Catalyst

Stack Size: 10Adds quality that enhances Life and Mana modifiers on a ring, amulet or belt
Replaces other quality typesRight click this item then left click a ring, amulet or belt to apply it. Has greater effect on lower-rarity jewellery. The maximum quality is 20%.
Shift click to unstack.s and Prismatic Catalyst

Prismatic Catalyst

Stack Size: 10Adds quality that enhances Resistance modifiers on a ring, amulet or belt
Replaces other quality typesRight click this item then left click a ring, amulet or belt to apply it. Has greater effect on lower-rarity jewellery. The maximum quality is 20%.
Shift click to unstack.s
Delirium
Simulacrum Splinter

Simulacrum Splinter

Stack Size: 300Combine 300 Splinters to create a Simulacrum.
Shift click to unstack.s, Cluster Jewels, Delirium orbs
Breach
Breach Splinters, and rarely Breachstones or Empowered Breachstones
Perandus
Perandus Coin

Perandus Coin

Stack Size: 5000Trade coins to Cadiro Perandus.
Shift click to unstack.s, can also contain Perandus Scarab
Legion
Legion Splinters, Incubators
Scarab
Scarabs
References
See Also
Version history
| Version | Changes |
| --- | --- |
| 3.9.0 | Each Blight encounter will award at least one Oil or Blighted Map. |
| 3.8.0 | |