Blueprint: Underbelly
From Path of Exile Wiki
Blueprint: UnderbellyHeist Target: Thieves' Trinkets or Currency
Area Level: (?-83)
Wings Revealed: (1-4)/(2-4)
Escape Routes Revealed: (2-8)/(4-8)
Reward Rooms Revealed: #/<random>
Requires <random Rogue skill> (Level (1-5))Use Intelligence to Reveal additional Wings and Rooms by talking to certain NPCs in the Rogue Harbour. Give this Blueprint to Adiyah to embark on the Grand Heist.
Acquisition
Level: 50
Blueprint can be dropped anywhere in the gameSell Price
1x Scroll FragmentMiscellaneous
Item class: Blueprint
Metadata ID: Metadata/Items/Heist/HeistBlueprintSewers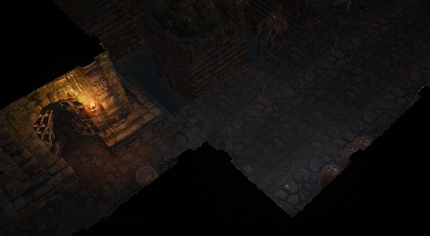 Blueprint: Underbelly is a blueprint base type. The Grand Heist generated by this blueprint uses Underbelly tileset.
The final room of this Grand Heist rewards
Thief's TrinketThief's TrinketCorruptedYou must find the sculpture The Catch in a Smuggler's Den or Underbelly Blueprint to be able to equip this
or currency.
Mechanics
Effects
Image
Name & Type
Description
Burning wire
Boss special attack

The Tormentor mini boss can spawn burning wires that deal constant fire damage
Players must avoid the wires or they will take constant damage

Fire Ballista
Boss special attack

The Tormentor mini boss can spawn fire ballista that shoot projectiles at players
Players must attack and destroy the ballista
Monsters
Unique versions
There are currently no unique items for this base item type.
Item acquisition
Blueprint can be dropped anywhere in the game
Version history
Version
Changes
3.13.0

Heist became a core game mechanic
Contracts, Blueprints and Rogue's Markers now drop less frequently (Not stated in patch note: the drop rate was comparing to Heist league).

3.12.0
Mechanics
NPCs
Contracts
Blueprints

Bunker

Blueprint: Bunker

Heist Target:

Enchanted Armaments




Area Level:

(?-83)




Wings Revealed:

(1-4)/(2-4)




Escape Routes Revealed:

(2-8)/(4-8)




Reward Rooms Revealed:

#/<random>




Requires

<random Rogue skill>

(Level

(1-5)

)

Use Intelligence to Reveal additional Wings and Rooms by talking to certain NPCs in the Rogue Harbour. Give this Blueprint to Adiyah to embark on the Grand Heist.

Mansion

Blueprint: Mansion

Heist Target:

Enchanted Armaments




Area Level:

(?-83)




Wings Revealed:

(1-4)/(2-4)




Escape Routes Revealed:

(2-8)/(4-8)




Reward Rooms Revealed:

#/<random>




Requires

<random Rogue skill>

(Level

(1-5)

)

Use Intelligence to Reveal additional Wings and Rooms by talking to certain NPCs in the Rogue Harbour. Give this Blueprint to Adiyah to embark on the Grand Heist.

Records Office

Blueprint: Records Office

Heist Target:

Enchanted Armaments




Area Level:

(?-83)




Wings Revealed:

(1-4)/(2-4)




Escape Routes Revealed:

(2-8)/(4-8)




Reward Rooms Revealed:

#/<random>




Requires

<random Rogue skill>

(Level

(1-5)

)

Use Intelligence to Reveal additional Wings and Rooms by talking to certain NPCs in the Rogue Harbour. Give this Blueprint to Adiyah to embark on the Grand Heist.

Repository

Blueprint: Repository

Heist Target:

Unusual Gems




Area Level:

(?-83)




Wings Revealed:

(1-4)/(2-4)




Escape Routes Revealed:

(2-8)/(4-8)




Reward Rooms Revealed:

#/<random>




Requires

<random Rogue skill>

(Level

(1-5)

)

Use Intelligence to Reveal additional Wings and Rooms by talking to certain NPCs in the Rogue Harbour. Give this Blueprint to Adiyah to embark on the Grand Heist.

Smuggler's Den

Blueprint: Smuggler's Den

Heist Target:

Thieves' Trinkets or Currency




Area Level:

(?-83)




Wings Revealed:

(1-4)/(2-4)




Escape Routes Revealed:

(2-8)/(4-8)




Reward Rooms Revealed:

#/<random>




Requires

<random Rogue skill>

(Level

(1-5)

)

Use Intelligence to Reveal additional Wings and Rooms by talking to certain NPCs in the Rogue Harbour. Give this Blueprint to Adiyah to embark on the Grand Heist.

Tunnels

Blueprint: Tunnels

Heist Target:

Unusual Gems




Area Level:

(?-83)




Wings Revealed:

(1-4)/(2-4)




Escape Routes Revealed:

(2-8)/(4-8)




Reward Rooms Revealed:

#/<random>




Requires

<random Rogue skill>

(Level

(1-5)

)

Use Intelligence to Reveal additional Wings and Rooms by talking to certain NPCs in the Rogue Harbour. Give this Blueprint to Adiyah to embark on the Grand Heist.

Underbelly

Blueprint: Underbelly

Heist Target:

Thieves' Trinkets or Currency




Area Level:

(?-83)




Wings Revealed:

(1-4)/(2-4)




Escape Routes Revealed:

(2-8)/(4-8)




Reward Rooms Revealed:

#/<random>




Requires

<random Rogue skill>

(Level

(1-5)

)

Use Intelligence to Reveal additional Wings and Rooms by talking to certain NPCs in the Rogue Harbour. Give this Blueprint to Adiyah to embark on the Grand Heist.

Laboratory

Blueprint: Laboratory

Heist Target:

Replicas or Experimented Items




Area Level:

(?-83)




Wings Revealed:

(1-4)/(2-4)




Escape Routes Revealed:

(2-8)/(4-8)




Reward Rooms Revealed:

#/<random>




Requires

<random Rogue skill>

(Level

(1-5)

)

Use Intelligence to Reveal additional Wings and Rooms by talking to certain NPCs in the Rogue Harbour. Give this Blueprint to Adiyah to embark on the Grand Heist.

Prohibited Library

Blueprint: Prohibited Library

Heist Target:

Replicas or Experimented Items




Area Level:

(?-83)




Wings Revealed:

(1-4)/(2-4)




Escape Routes Revealed:

(2-8)/(4-8)




Reward Rooms Revealed:

#/<random>




Requires

<random Rogue skill>

(Level

(1-5)

)

Use Intelligence to Reveal additional Wings and Rooms by talking to certain NPCs in the Rogue Harbour. Give this Blueprint to Adiyah to embark on the Grand Heist.

---

Bosses
Rewards

Types
Currency
Unique Items
Boss Drops

---

Rogue Gear

Weapons
Cloaks

Torn Cloak

Torn Cloak

Requires 2 in Any job2% reduced raising of Alert Level

Can only be equipped to Heist members.

Tattered Cloak

Tattered Cloak

Requires 3 in Any job3% reduced raising of Alert Level

Can only be equipped to Heist members.

Whisper-woven Cloak

Whisper-woven Cloak

Requires 5 in Any job5% reduced raising of Alert Level

Can only be equipped to Heist members.

Brooches
Lockpicking
Brute Force
Engineering
Agility
Counter-Thaumaturgy
Perception
Demolition
Trap Disarmament
Deception