m

m (rus)

Line 39:
Line 39:
 

<section end="version history" />

 

<section end="version history" />

 

{{Navbox maps}}

 

{{Navbox maps}}

 
+
 
+

[[ru:Карта трясины]]
---
Revision as of 14:59, 23 June 2021
Bog Map
Map Level: 82
Map Tier: 15
Guild Character: y
Layer upon layer of death and rot. Disgusting.
Travel to this Map by using it in a personal Map Device. Maps can only be used once.
Acquisition
Level: 81
Vendor Prices
Vendor Offer
1x Scroll Fragment
Miscellaneous
Item class: Maps
| | |
| --- | --- |
| Id | MapWorldsBog |
| Act | 11 |
| Area level | 77 |
| Bosses | Skullbeak |
| Area type tags | swamp |
| Tags | map, area_with_water, einharmaps, fetid_area |
| | The Shaper: Layer upon layer of death and rot. Disgusting. |
Layer upon layer of death and rot. Disgusting.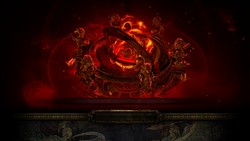 Layout
Encounters
Boss
Skullbeak
Boss video
Items found in this area
Item acquisition
Upgrade paths
This item can be acquired through the following upgrade paths or vendor recipes:

Amount
Ingredient
General
Notes
Type
8
Lost WorldsLost Worlds8Map
Map Tier: 15"There are worlds that lie beyond the edge of my page, the edge of my understanding. Worlds of wonder. Worlds of terror."
Aramil - Cartographer to Emperor Chitus
random tier 15 map
Automatic
7
The TrialThe Trial7Map
Map Tier: 15
CorruptedYou cannot journey to new lands until you have the courage to leave the safety of home.
random corrupted tier 15 map
Automatic
4
Boundless RealmsBoundless Realms4MapBoundless is the distance between where we start and where we start again.
random map
Automatic
6
The ExplorerThe Explorer6Map
CorruptedA map is only useful if you know where you stand.
random corrupted map
Automatic
1
The VoidThe Void1Reach into the Void and claim your prize.
random divination card set exchange
Automatic
Unique versions
There are currently no unique items for this base item type.
Version history
Version
Changes
3.5.0

The Atlas of Worlds has been shuffled. Most maps have changed tier and location within the Atlas.
Many map bosses have also shifted around. Some have been retired and replaced!

3.1.0

The entire Atlas has been reworked. Many map names have changed, as have their balance, tier and position on the Atlas. Many maps have also had their boss fights swapped or completely reworked.
The rules used to generate monsters in endgame maps have been significantly reworked and rebalanced around the rate at which we expect players to reliably clear out the map. In general, narrow, linear maps will contain fewer total monsters than maps with complex layouts. We will be closely monitoring and adjusting the balance of this change and expect to make further changes and improvements over time.

0.10.0

The following Map areas have been updated so that they're substantially different in layout to before: Spider ForestSpider Forest MapMap Level: 69
Map Tier: 4
Guild Character: ÓTravel to this Map by using it in the Templar Laboratory or a personal Map Device. Maps can only be used once., Jungle ValleyJungle Valley MapMap Level: 72
Map Tier: 7
Guild Character: 3Travel to this Map by using it in the Templar Laboratory or a personal Map Device. Maps can only be used once., Waste PoolWaste Pool MapMap Level: 72
Map Tier: 7
Guild Character: 1Travel to this Map by using it in the Templar Laboratory or a personal Map Device. Maps can only be used once., Dry WoodsAshen Wood MapMap Level: 71
Map Tier: 6
Guild Character: ŒTravel to this Map by using it in a personal Map Device. Maps can only be used once., CemeteryCemetery MapMap Level: 67
Map Tier: 2
Guild Character: CTravel to this Map by using it in the Templar Laboratory or a personal Map Device. Maps can only be used once., MineFlooded Mine MapMap Level: 72
Map Tier: 7
Guild Character: 2Travel to this Map by using it in the Templar Laboratory or a personal Map Device. Maps can only be used once., Underground SeaUnderground Sea MapMap Level: 74
Map Tier: 9
Guild Character: 9Travel to this Map by using it in the Templar Laboratory or a personal Map Device. Maps can only be used once., BogBog MapMap Level: 70
Map Tier: 5
Guild Character: ÚTravel to this Map by using it in a personal Map Device. Maps can only be used once., PlateauPlateau MapMap Level: 75
Map Tier: 10
Guild Character: )Travel to this Map by using it in the Templar Laboratory or a personal Map Device. Maps can only be used once. and DunesDunes MapMap Level: 66
Map Tier: 1
Guild Character: UTravel to this Map by using it in the Templar Laboratory or a personal Map Device. Maps can only be used once..

0.9.11