Bog Map
Map Level: 78
Map Tier: 11
Guild Character: y
Layer upon layer of death and rot. Disgusting.
Travel to this Map by using it in the Templar Laboratory or a personal Map Device. Maps can only be used once.
Acquisition
Area level: 77


DROP DISABLED
Vendor Prices
Vendor Offer
1x Scroll Fragment
Metadata
Item class: Maps
| | |
| --- | --- |
| Id | MapWorldsBog |
| Act | 11 |
| Area level | 77 |
| Bosses | Skullbeak |
| Area type tags | swamp |
| Tags | map, area_with_water, einharmaps, fetid_area |
| | The Shaper: Layer upon layer of death and rot. Disgusting. |
Layer upon layer of death and rot. Disgusting.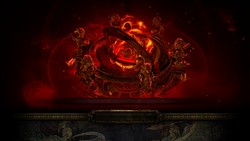 Layout
Encounters
Boss
Skullbeak, based on Oozeback Bloom.
Nearby enemies take chaos damage over time (bring an amethyst flask)
Charges
Drops more and better items when enraged
Boss video
Items found in this area
Item
The Gambler

The Gambler

5

Divination Card

"I don't believe in karma. If it were real, I would never win."

1
The Encroaching Darkness

The Encroaching Darkness

8

Map
Corrupted

No matter where your dreams take you, Nightmare follows close behind.

1
Death

Death

4

Mon'tregul's GraspThe end of the old,
the beginning of the new.
A unique opportunity for transformation,
for those with the power
to grasp it.
1
The Trial

The Trial

7

Map


Map Tier:

15


Corrupted

You cannot journey to new lands until you have the courage to leave the safety of home.

1
Her Mask

Her Mask

4

Sacrifice FragmentTo her beauty you submit,
lest your neck the great Queen slit.
1
Lingering Remnants

Lingering Remnants

16

Vaal Temple Map


Item Level:

83


CorruptedNever dying, yet not living,
Endlessly they wander
beneath the harvest moon.
1
Convoking Wand

Convoking Wand

Wand
Physical Damage: 30-56
Critical Strike Chance: 7.00%
Attacks per Second: 1.40
Weapon Range: 120Requires Level 72, 242 IntCan roll Minion Modifiers
72
Cerulean Ring

Cerulean Ring

Requires Level 80(8-10)% increased maximum Mana
80
The Fishmonger

The Fishmonger

4

Albino Rhoa Feather

However vicious Rhoas might be, a dedicated angler may in time tame them.

1
Iolite Ring

Iolite Ring

Requires Level 78

(17–23)% increased Chaos Damage

78
Item acquisition
This item is drop disabled.
Unique versions
There are currently no unique items for this base item type.
Version history
Version
Changes
3.5.0

The Atlas of Worlds has been shuffled. Most maps have changed tier and location within the Atlas.
Many map bosses have also shifted around. Some have been retired and replaced!

3.1.0

The entire Atlas has been reworked. Many map names have changed, as have their balance, tier and position on the Atlas. Many maps have also had their boss fights swapped or completely reworked.
The rules used to generate monsters in endgame maps have been significantly reworked and rebalanced around the rate at which we expect players to reliably clear out the map. In general, narrow, linear maps will contain fewer total monsters than maps with complex layouts. We will be closely monitoring and adjusting the balance of this change and expect to make further changes and improvements over time.

0.10.0

The following Map areas have been updated so that they're substantially different in layout to before: Spider Forest

Spider Forest Map

Map Level: 69
Map Tier: 4
Guild Character: Ó

Travel to this Map by using it in the Templar Laboratory or a personal Map Device. Maps can only be used once.

, Jungle Valley

Jungle Valley Map

Map Level: 72
Map Tier: 7
Guild Character: 3

Travel to this Map by using it in the Templar Laboratory or a personal Map Device. Maps can only be used once.

, Waste Pool

Waste Pool Map

Map Level: 72
Map Tier: 7
Guild Character: 1

Travel to this Map by using it in the Templar Laboratory or a personal Map Device. Maps can only be used once.

, Dry Woods

Ashen Wood Map

Map Level: 71
Map Tier: 6
Guild Character: Œ

Travel to this Map by using it in a personal Map Device. Maps can only be used once.

, Cemetery

Cemetery Map

Map Level: 67
Map Tier: 2
Guild Character: C

Travel to this Map by using it in the Templar Laboratory or a personal Map Device. Maps can only be used once.

, Mine

Flooded Mine Map

Map Level: 72
Map Tier: 7
Guild Character: 2

Travel to this Map by using it in the Templar Laboratory or a personal Map Device. Maps can only be used once.

, Underground Sea

Underground Sea Map

Map Level: 74
Map Tier: 9
Guild Character: 9

Travel to this Map by using it in the Templar Laboratory or a personal Map Device. Maps can only be used once.

, Bog

Bog Map

Map Level: 70
Map Tier: 5
Guild Character: Ú

Travel to this Map by using it in a personal Map Device. Maps can only be used once.

, Plateau

Plateau Map

Map Level: 75
Map Tier: 10
Guild Character: )

Travel to this Map by using it in the Templar Laboratory or a personal Map Device. Maps can only be used once.

and Dunes

Dunes Map

Map Level: 66
Map Tier: 1
Guild Character: U

Travel to this Map by using it in the Templar Laboratory or a personal Map Device. Maps can only be used once.

.

0.9.11