Breathstealer
Hydrascale Gauntlets
Quality: +20%
Armour: (233-286)
Evasion: (233-286)
Requires Level 59, 45 Str, 45 Dex
(100-150)% increased Armour and Evasion
+(30-50) to maximum Mana
+(10-16)% to all Elemental Resistances
(5-10)% increased Attack and Cast Speed
Create a Blighted Spore when your Skills or Minions Kill a Rare Monster
The last gasp is not always one's final act.
This item can be anointed by Cassia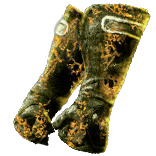 Acquisition
This items drops from Blight encounters, such as Blighted maps
Vendor Prices
Vendor Offer
6x Alchemy Shard
14x Alteration Shard
Metadata
Item class: Gloves
Breathstealer is a pair of unique
Hydrascale GauntletsHydrascale GauntletsArmour: 106
Evasion: 106Requires Level 59, 45 Str, 45 Dex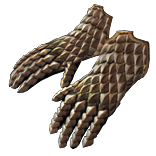 .
Mechanics
Create a Blighted Spore when your Skills or Minions Kill a Rare Monster

: Blighted Spores last for 10 seconds and have a random Aura. Blighted spores do not move. The duration can not be modified. Auras affect all allies. Random auras can include those that come from monster modifiers.
Because Animated Guardian has no skills and minions, Breathstealer cannot create Blighted Spores when equipped on an Animate Guardian

Animate Guardian

Spell, Minion, Physical
Level: (1-20)
Cost: (11-20) Mana
Cast Time: 0.60 secRequires Level 28

Animates a melee weapon or armour, attaching it to an invisible Guardian that fights by your side. Animating multiple items attaches them to the same Guardian. You cannot animate unidentified items. Cannot be used by Traps or Mines.

Per 1% Quality:1

Superior

2

Anomalous

3

Divergent

Minions have 2% increased Movement Speed

Minions have 3% increased Area of Effect

2% increased Minion Maximum Life

Can use Items requiring up to Level (33-100)
Minions' Attacks deal (22-56) to (34-84) additional Physical Damage
(0-76)% increased Minion Maximum Life
Minions deal (0-76)% increased Physical Damage with Melee Attacks

Place into an item socket of the right colour to gain this skill. Right click to remove from a socket.

.
Item acquisition
This items drops from Blight encounters, such as Blighted maps
Version history
| Version | Changes |
| --- | --- |
| 3.8.0 | |