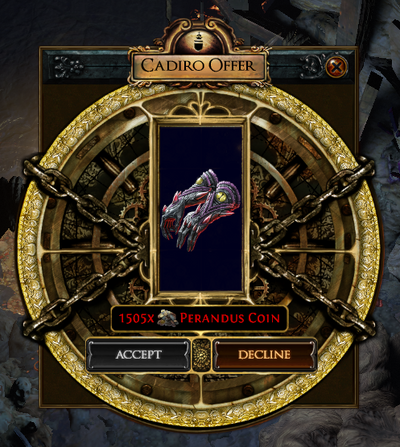 Lists of Cadiro's Offers
This is a non-exhaustive list of the items Cadiro Perandus can offer players as he is encountered throughout Wraeclast. Items are priced in
Perandus CoinsPerandus CoinStack Size: 5000Trade coins to Cadiro Perandus.
Shift click to unstack.
. Each offer can be accepted only once and Cadiro will leave via a portal once the transaction is complete. If the offer is declined Cadiro will remain in the area, giving the player the opportunity to fetch the required coins in their stash if they are not carried in the inventory. Cadiro can offer league-specific unique items which aren't easily obtainable.
Currency
Rare items (unidentified)
Unique items
Maps
Gems
Item
Level and quality
Perandus Coin
Enlighten Support

Enlighten Support

Support
Icon:

+


Level: (1-3)

Supports any skill gem. Once this gem reaches level 2 or above, will apply a mana multiplier to supported gems. Cannot support skills that don't come from gems.

Per 1% Quality:1

Superior

2

Anomalous

This Gem gains 5% increased Experience

3% reduced Intelligence Requirement

This is a Support Gem. It does not grant a bonus to your character, but to skills in sockets connected to it. Place into an item socket connected to a socket containing the Active Skill Gem you wish to augment. Right click to remove from a socket.

lv 3
1667 (with Friend of the Family atlas passive)
Poacher's Mark

Poacher's Mark

Spell, Duration, Curse, Mark
Level: (1-20)
Cost: (16-33) Mana
Cast Time: 0.50 secRequires Level 24

Curses a single enemy, lowering their physical damage reduction, and adding physical damage to all hits against them. Attacking the cursed enemy will grant life and mana, and killing them will grant a frenzy charge. You can only have one Mark at a time.

Per 1% Quality:1

Superior

2

Anomalous

3

Divergent

Cursed Enemies have a 0.25% chance to grant a Frenzy Charge when Hit

Cursed enemies take 0.2% increased Damage

Cursed enemies have -0.25% to Physical Damage Reduction

Base duration is (6-9.8) seconds
Adds (6-30) to (9-45) Physical Damage to Hits against Cursed Enemies
Cursed enemies have -20% to Physical Damage Reduction
Cursed enemies grant (15-50) Life when Hit by Attacks
Cursed enemies grant (8-25) Mana when Hit by Attacks
Cursed enemies have a 100% chance to grant a Frenzy Charge when slain

Place into an item socket of the right colour to gain this skill. Right click to remove from a socket.

lv 21 Q20 (corrupted)
2312 (with Friend of the Family atlas passive)
Splitting Steel

Splitting Steel

Attack, Projectile, AoE, Physical
Level: (1-20)
Cost: (5-8) Mana

Consume a Steel Shard to fire a single projectile that splits on impact or at the targeted location, dealing area damage when it splits and again when the split projectiles explode at the end of their flight. Requires a Sword or Axe. Steel Shards are gained with the Call of Steel Skill.

Per 1% Quality:1

Superior

2

Anomalous

3

Divergent

4

Phantasmal

1% increased Impale Effect

0.5% chance to inflict an additional Impale when this Skill inflicts Impale

0.5% increased Area of Effect
1% increased Projectile Speed-2% chance to Impale Enemies on Hit
2% increased DamageDeals (100-168.4)% of Base Attack Damage
Projectiles Split towards (2-4) targets
Consumes up to 1 Steel Shard
60% chance to Impale Enemies on Hit
(2-75) to (3-113) Added Attack Physical Damage
Projectiles which have Split deal 35% less Damage
50% less Area of Effect after Splitting
Modifiers to number of Projectiles instead apply to
the number of targets Projectile Splits towards
If you have no Steel Shards, Projectile counts as already having Split
Projectiles can Split without hitting a target
+(0-4) to radius

Place into an item socket of the right colour to gain this skill. Right click to remove from a socket.

lv 20 Q20
1197 (with Friend of the Family atlas passive)
Version history
| Version | Changes |
| --- | --- |
| 3.14.0 | The selection of items sold by Cadiro has been modernised and their costs have been adjusted accordingly. |
| 2.2.0 | |