Chateau Map
Map Level: 78
Map Tier: 11
Guild Character: Û
Travel to this Map by using it in the Templar Laboratory or a personal Map Device. Maps can only be used once.
Acquisition
Area level: 78


DROP DISABLED
Vendor Prices
Vendor Offer
1x Scroll Fragment
Metadata
Item class: Maps
Metadata ID: Metadata/Items/Maps/MapAtlasChateau

| | |
| --- | --- |
| Id | MapAtlasChateau |
| Act | 11 |
| Area level | 78 |
| Bosses | The Reaver |
| Area type tags | urban, dungeon, temple |
| Tags | map, area_with_water, indoors_area, einharmaps, wealthy_area |
| | The Shaper: Beauty and brutality in such close proximity. |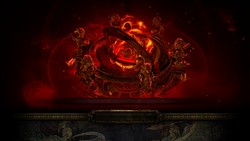 Chateau Map is a map based on Estate Walkways area in The Lord's Labyrinth, without the traps. The first part of the map is a withered garden featuring statue enemies: Archer Statue, Fencer Statue, Martial Statue and Overgrown Colossus. The second part is made of arcade hallways surrounding the garden.
Map Type: Indoors/Outdoors
Boss Arena
Boss doesn't have an arena. Two staircases lead to a large square garden where the boss is located.
Boss
Hephaeus, The Hammer, based on Argus.
Moves very fast
Sunder

Sunder

Attack, AoE, Slam, Melee
Level: (1-20)
Cost: 8 Mana
Attack Speed: 75% of base
Attack Damage: (175-220)% of base
Effectiveness of Added Damage: (175-220)%Requires Level 12

Slams the ground, creating a slow wave of churning terrain that damages enemies in a sequence of areas in front of you. A number of enemies hit by the wave will release a shockwave, damaging other enemies around them. Using the skill again will stop the previous wave. Requires a Mace, Sceptre, Axe, Staff or Unarmed.

Per 1% Quality:1

Superior

2

Anomalous

3

Divergent

4

Phantasmal

0.5% increased Area of Effect

Wave has 0.5% reduced delay between Areas

1% increased Physical Damage

Shockwaves have 1% reduced Area of Effect
Wave has 1% increased Area of EffectDeals (175-220)% of Base Attack Damage
Shockwaves deal 40% less Damage
Wave gains +2 to radius with each Area in the Sequence
Wave Damages 5 Areas
Wave cannot stop before Damaging 2 Areas
Wave causes Shockwaves from up to 5 Enemies in each Area
(0-19)% more Area of Effect
Wave has (0-25)% reduced delay between Areas

Place into an item socket of the right colour to gain this skill. Right click to remove from a socket.

NOT immune to ailments (unlike Argus)
Item acquisition
This item is drop disabled.
Upgrade paths
This item can be acquired through the following upgrade paths or vendor recipes:

Amount
Ingredient
Type
3
Arsenal Map

Arsenal Map

Map Level: 77
Map Tier: 10
Guild Character: ]

Travel to this Map by using it in the Templar Laboratory or a personal Map Device. Maps can only be used once.

Manual
3
Shaped Peninsula Map

Shaped Peninsula Map

Map Level: 77
Map Tier: 10
Guild Character: 8

Travel to this Map by using it in the Templar Laboratory or a personal Map Device. Maps can only be used once.

Manual
Usage in upgrade paths
This item is used by upgrade paths or vendor recipes to create the following items:

Outcome
Amount
Ingredient
Type
Estuary Map

Estuary Map

Map Level: 79
Map Tier: 12
Guild Character: s

Travel to this Map by using it in the Templar Laboratory or a personal Map Device. Maps can only be used once.

3
Chateau Map

Chateau Map

Map Level: 78
Map Tier: 11
Guild Character: Û

Travel to this Map by using it in the Templar Laboratory or a personal Map Device. Maps can only be used once.

Manual
Divination cards
The following divination cards can drop in this area:
Unique versions
Item
The Perandus ManorThe Perandus Manor
Chateau MapMap Level: 78
Map Tier: 11
Guild Character: ™
Item Quantity: (+60%-+100%)
Item Rarity: (+200%-+300%)(100-150)% increased Experience gain
(200-300)% more Rare Monsters
(30-40)% more Monster Life
(16-24)% increased Monster DamageForget kings and emperors;
He who holds the coin holds all the power.

Travel to this Map by using it in the Templar Laboratory or a personal Map Device. Maps can only be used once.

1
Boss video
Other versions
Version history
Version
Changes
3.5.0

The Atlas of Worlds has been shuffled. Most maps have changed tier and location within the Atlas.
Many map bosses have also shifted around. Some have been retired and replaced!
(undocumented) The Reaver was replaced by Hephaeus, The Hammer as the map boss of Chateau Map
(undocumented) The Atlas will now be shuffled every league.

3.1.0

The entire Atlas has been reworked. Many map names have changed, as have their balance, tier and position on the Atlas. Many maps have also had their boss fights swapped or completely reworked.
The rules used to generate monsters in endgame maps have been significantly reworked and rebalanced around the rate at which we expect players to reliably clear out the map. In general, narrow, linear maps will contain fewer total monsters than maps with complex layouts. We will be closely monitoring and adjusting the balance of this change and expect to make further changes and improvements over time.
(undocumented) Hephaeus, The Hammer and The Reaver was swapped. They were the map bosses of Ghetto Map

Ghetto Map

Map Level: 77
Map Tier: 10
Guild Character: œAmongst the rabble,
brutality is the law.

Travel to this Map by using it in a personal Map Device. Maps can only be used once.

and Chateau Map

Chateau Map

Map Level: 72
Map Tier: 5
Guild Character: O

Beauty and brutality in such close proximity.

Travel to this Map by using it in a personal Map Device. Maps can only be used once.

respectively

2.2.0