Command of the Pit
Riveted Gloves
Quality: +20%
Armour: 80
Energy Shield: 15
Requires Level 37, 29 Str, 29 Int
Has 1 Abyssal Socket
(6-10)% increased Cast Speed
(4-6)% increased maximum Life
With a Ghastly Eye Jewel Socketed, Minions have +1000 to Accuracy Rating
With a Hypnotic Eye Jewel Socketed, gain Arcane Surge on Hit with Spells
We serve only the Night.
Acquisition
Vendor Prices
Vendor Offer
10x Alchemy Shard
8x Alteration Shard
Metadata
Item class: Gloves
Command of the Pit is a pair of unique
Riveted GlovesRiveted GlovesArmour: 67
Energy Shield: 13Requires Level 37, 29 Str, 29 Int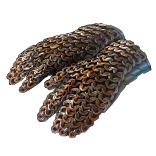 , one of two attainable variants.
Mechanics
Arcane Surge granted by this item is level 1.[1]
Item acquisition
Monster restrictions
This item can be acquired from the following monsters:

See also
Version history
| Version | Changes |
| --- | --- |
| 3.4.0 | |
References
Mechanics
Locations
Biomes
Bosses
Fossils
Resonators
Unique Items