Core MapMap Level: 82
Map Tier: 15
Guild Character: •Travel to this Map by using it in the Templar Laboratory or a personal Map Device. Maps can only be used once.
Acquisition
Area level: 82
DROP DISABLEDVendor Offer
1x Scroll FragmentMetadata
Item class: Maps
Metadata ID: Metadata/Items/Maps/MapAtlasCore
Id
MapAtlasCore
Act
11
Area level
82
Bosses
Eater of Souls
Eater of Souls
Area type tags
temple, cave
Tags
indoors_area, map, no_echo, area_with_water, einharmaps, belly_area, harvest_area, core_map_area, vile_areas
The Shaper: Black monstrous bridges cross oily rivers, leading nowhere. Nothing as it should be.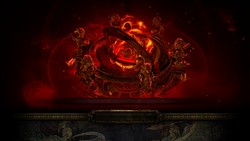 Layout
Core Map uses the Belly tileset. Based on the The Harvest in Act 4.
Encounters
Boss
The Depraved Trio of Maligaro, Shavronne and Doedre (the Prodigy trio of this map) all maintain serious damage but have little health and should make for short work. Phase 1 Malachai avoid the "Die and be reborn" one-shot slam. In phase 2 avoid the teleport slam. The main difficulty of this boss comes from the small arena and ease to make a fatal mistake in a long fight. Absolutely manic with some map mods such as extra projectiles or double boss.
Boss video
Other versions
Version history
Version
Changes
3.9.0

The Atlas of Worlds has been reworked. You now start at the centre and will work your way outwards as you explore a new storyline.
Added a new mechanic - Watchstones: These can only be obtained by defeating one of the new Atlas bosses. They can be used to raise the tier of all maps in a particular region of the Atlas, causing all maps of those base types to drop at the new higher tier.

3.5.0

The Atlas of Worlds has been shuffled. Most maps have changed tier and location within the Atlas.
(Not in patch notes) The Atlas will now be shuffled every league.

3.1.1d

Fixed a bug that could cause the boss fight of a Twinned Core Map to not work.

3.1.0

The entire Atlas has been reworked. Many map names have changed, as have their balance, tier and position on the Atlas. Many maps have also had their boss fights swapped or completely reworked.
The rules used to generate monsters in endgame maps have been significantly reworked and rebalanced around the rate at which we expect players to reliably clear out the map. In general, narrow, linear maps will contain fewer total monsters than maps with complex layouts. We will be closely monitoring and adjusting the balance of this change and expect to make further changes and improvements over time.

2.4.0

The Atlas of Worlds lets you track your progression through Path of Exile's map endgame. You can also use it to upgrade maps and add mods to the Atlas. It indicates which maps are connected to each other.
The map drop rules have been changed so that connected maps and maps you've previously completed can drop from the area you're playing. As you progress towards the center of the Atlas from the four corners, the tier of maps increases.
Most existing maps have been revamped to have more balanced monster composition, layouts, boss fights and rewards.

2.2.0

Tier 15 Core maps can now get the "Twinned" map mod.

2.0.1