Core Map
Map Level: 82
Map Tier: 15
Guild Character: •
Travel to this Map by using it in the Templar Laboratory or a personal Map Device. Maps can only be used once.
Acquisition
Area level: 82


DROP DISABLED
Vendor Offer
1x Scroll Fragment
Metadata
Item class: Maps
Metadata ID: Metadata/Items/Maps/MapAtlasCore
Id
MapAtlasCore
Act
11
Area level
82
Bosses
Eater of Souls
Eater of Souls
Area type tags
temple, cave
Tags
indoors_area, map, no_echo, area_with_water, einharmaps, belly_area, harvest_area, core_map_area, vile_areas
The Shaper: Black monstrous bridges cross oily rivers, leading nowhere. Nothing as it should be.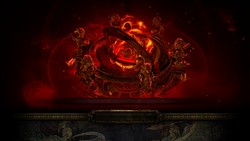 Layout
Encounters
Other versions
Version history