Dark Forest Map
Map Level: 74
Map Tier: 7
Guild Character: ®
The trees grow twisted and gnarled, without a hint of light. A curse lingers here.
Travel to this Map by using it in a personal Map Device. Maps can only be used once.
Acquisition
Level: 73
Vendor Prices
Vendor Offer
1x Scroll Fragment
Miscellaneous
Item class: Maps
| | |
| --- | --- |
| Id | MapWorldsDarkForest |
| Act | 11 |
| Area level | 81 |
| Bosses | The Cursed King |
| Area type tags | forest |
| Tags | map, no_echo, einharmaps, has_road_area, forest_map_area, dark_forest_area |
| | The Shaper: The trees grow twisted and gnarled, without a hint of light. A curse lingers here. |
The trees grow twisted and gnarled, without a hint of light. A curse lingers here.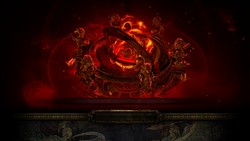 Dark Forest Map is a map area.
Layout
The boss room occasionally applies debuff or hex curse to the player character, such as Shrink and Creeping Ice.
Encounters
Boss
Boss video
Items found in this area
Item
The Dragon

The Dragon

4

Coruscating ElixirScaly beast of the skies,
watching with his golden eyes.
Shadow that blocks out the sun,
it's too late for you to run.
1
The Gambler

The Gambler

5

Divination Card

"I don't believe in karma. If it were real, I would never win."

1
The Encroaching Darkness

The Encroaching Darkness

8

Map
Corrupted

No matter where your dreams take you, Nightmare follows close behind.

1
Her Mask

Her Mask

4

Sacrifice FragmentTo her beauty you submit,
lest your neck the great Queen slit.
1
Mawr Blaidd

Mawr Blaidd

16

Eyes of the Greatwolf

Rigwald believed he'd seized great power, but it was the great power that had seized Rigwald

1
The Wolven King's Bite

The Wolven King's Bite

8

Rigwald's Quills

A wolf does not bite his mate as he does his prey, yet both begin with bared teeth. Know who you are, and you will know the meaning of the bite.

1
Lingering Remnants

Lingering Remnants

16

Vaal Temple Map


Item Level:

83


CorruptedNever dying, yet not living,
Endlessly they wander
beneath the harvest moon.
1
The Mad King

The Mad King

7

The King's Path

Fear the man who lusts for power, for he will do anything to get it.

1
Item acquisition
Upgrade paths
This item can be acquired through the following upgrade paths or vendor recipes:

Amount
Ingredient
General
Notes
Type
4
Boundless Realms

Boundless Realms

4

Map

Boundless is the distance between where we start and where we start again.

random map
Automatic
6
The Explorer

The Explorer

6

Map
Corrupted

A map is only useful if you know where you stand.

random corrupted map
Automatic
1
The Void

The Void

1

Reach into the Void and claim your prize.

random divination card set exchange
Automatic
Unique versions
There are currently no unique items for this base item type.
Version history
Version
Changes
3.5.0

The Atlas of Worlds has been shuffled. Most maps have changed tier and location within the Atlas.
Many map bosses have also shifted around. Some have been retired and replaced!

3.1.0

The entire Atlas has been reworked. Many map names have changed, as have their balance, tier and position on the Atlas. Many maps have also had their boss fights swapped or completely reworked.
The rules used to generate monsters in endgame maps have been significantly reworked and rebalanced around the rate at which we expect players to reliably clear out the map. In general, narrow, linear maps will contain fewer total monsters than maps with complex layouts. We will be closely monitoring and adjusting the balance of this change and expect to make further changes and improvements over time.

2.4.0

The Atlas of Worlds lets you track your progression through Path of Exile's map endgame. You can also use it to upgrade maps and add mods to the Atlas. It indicates which maps are connected to each other.
The map drop rules have been changed so that connected maps and maps you've previously completed can drop from the area you're playing. As you progress towards the center of the Atlas from the four corners, the tier of maps increases.
Most existing maps have been revamped to have more balanced monster composition, layouts, boss fights and rewards.
(Not in patch note) The Dark Forest Map

Dark Forest Map

Map Level: 82
Map Tier: 15
Guild Character: 7

Travel to this Map by using it in the Templar Laboratory or a personal Map Device. Maps can only be used once.

is now a T15 map. Its boss has been changed to resemble Rigwald, the Wolven King.

2.0.0

We have introduced a new series of maps. You can recognise these by their volcanic KaruiStone art rather than the old grey tablets.
Many maps have changed where they fit in the map progression. There are more maps at higher tiers than before.
Maps from the old progression no longer drop. They can be played to find maps from the new progression.
Old maps have their old art and mods. Crafting them yields mods from the old progression.

1.0.0e

Dark Forest maps now upgrade to a Residence Map

Residence Map

Map Level: 74
Map Tier: 9
Guild Character: !

Travel to this Map by using it in the Templar Laboratory or a personal Map Device. Maps can only be used once.

.

0.9.11