Deshret's BannerWhen the sun sets, the plains should be red.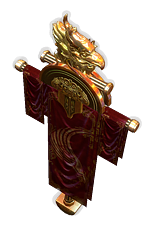 Acquisition
Area level: 1
DROP RESTRICTED
The Dried LakeMetadata
Item class: Quest Items
Metadata ID: Metadata/Items/QuestItems/Act4/RedBanner
Deshret's Banner is a quest item acquired after defeating Voll, Emperor of Purity in the Dried Lake during the quest, "Breaking the Seal". The banner is required to gain access to the Mines.
Item acquisition
Area restrictions
This item can be acquired in the following areas:

Monster restrictions
This item can be acquired from the following monsters:

Version history
| Version | Changes |
| --- | --- |
| 2.0.0 | Added to the game |