Desolate Track
Vaal side area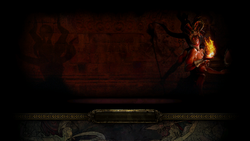 Desolate Track is a vaal side area that can be found in The Ascent and The Descent.
The map version (MapSideArea4_7) can be found in map by random (or via Vaal Fragment). When forced the area to spawn by
Hidden Vaal PathwaysHidden Vaal PathwaysAncient foes open new paths to the land they left barren.You will enter a hidden Vaal area that contains powerful enemies.Right-click to add this prophecy to your character.Seal Cost:
2x
Silver Coin


prophecy or map enchantment, apparently it is linked to
Glacier MapGlacier MapMap Level: 70
Map Tier: 3
Guild Character: UWe must all walk the narrow, winding path.
The end is always the same.Travel to this Map by using it in a personal Map Device. Maps can only be used once.
.
Monsters
Items found in this area
Item
The Cataclysm

The Cataclysm

13

Level 21 Spell Gem
Corrupted

The mighty warriors traded in blows, the nimble archers in arrows, yet it was the brazen thaumaturgists who would bring catastrophe to all.

1
Vanity

Vanity

9

Tabula Rasa
Corrupted

1
Lore
It contains Vaal Letter no. 9.
Version history
Version
Changes
3.10.0

Vaal Side Areas found in maps and those created by placing individual Vaal fragments in the map device now count as map areas for the purposes of map drops and other mechanics which interact with map areas.
For full changes related to map version of the vaal side area, read Version 3.10.0 § Endgame Vaal Side Area Improvements

3.9.0

Maps now have a 10% chance to contain a Vaal Side Area.

3.0.0