Doedre's Skin
Widowsilk Robe
Quality: +20%
Energy Shield: (375-405)
Movement Speed: -3%
Requires Level 65, 187 Int
Socketed Gems are Supported by Level 20 Blasphemy
Grants Level 20 Summon Doedre's Effigy Skill
Socketed Hex Curse Skills are Triggered by Doedre's Effigy when Summoned
Hexes from Socketed Skills ignore Curse Limit
+(30-40) to Intelligence
(130-150)% increased Energy Shield
As she was sentenced to death, Doedre was silent.
As she was tied to the stake, Doedre was silent.
As the flames licked away her life, Doedre was silent.
But Wraeclast had not heard the last of her.
Vendor Prices
Vendor Offer
18x Alchemy Shard
6x Alteration Shard
Metadata
Item class: Body Armours
Doedre's Skin is a unique
Widowsilk RobeWidowsilk RobeEnergy Shield: 150
Movement Speed: -3%Requires Level 65, 187 Int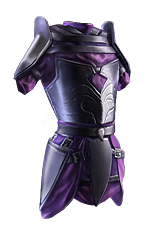 .[1]
Modifiers
The body armour grants
Summon Doedre's Effigy, as well as support the socketed Hex skill gem with SupportCursePillarTriggerCurses. That support has 25% reduced Effect of Supported Curses. In addition, all socketed skill gem are supported by
Blasphemy SupportBlasphemy SupportSupport, Hex, Aura
Icon: A
Level: (1-20)
Cooldown Time: 1.20 sec
Can Store 1 Use(s)Requires Level 31Supports hex curse skills, turning them into auras that will apply their effect to all enemies in an area around you.Per 1% Quality:1Superior2Anomalous3Divergent0.5% increased Effect of Supported Curses0.5% reduced Effect of Supported Curses
Supported Skills have 2% increased Area of EffectSupported Skills have 0.1% reduced Mana ReservedSupported Skills apply their Curse as an Auras
Supported Curse Skills also count as Aura Skills
Using Supported Skills is Instant
(0-76)% increased Area of Effect of Supported Curse SkillsThis is a Support Gem. It does not grant a bonus to your character, but to skills in sockets connected to it. Place into an item socket connected to a socket containing the Active Skill Gem you wish to augment. Right click to remove from a socket.
.
Item acquisition
Upgrade paths
This item can be acquired through the following upgrade paths or vendor recipes:

Amount
Ingredient
General
Notes
Type
9
Doedre's Madness

Doedre's Madness

9

Doedre Item

"Hold your tongue before I claim it." - Doedre Darktongue

random Doedre item
Automatic
4
The Body

The Body

4

Body Armour

They say it is the head that leads, but all must flow through the body at some point.

random body armour
Automatic
7
Prejudice

Prejudice

7

Item


Influenced ItemOne who is blinded by their past may
only see a sliver of the present.
random influenced item
Automatic
8
Arrogance of the Vaal

Arrogance of the Vaal

8

Item


Two-Implicit


Corrupted

Discovery can lead to beauty, or it can lead to ruin.

random two-implicit corrupted item
Automatic
4
Jack in the Box

Jack in the Box

4

ItemTurn the crank,
close your eyes,
and pray to the gods
for a pleasant surprise.
random item
Automatic
1
Singular Incubator

Singular Incubator

Adds an incubated Unique item to an equippable item
Item drops after killing # monsters

Unique Item

Right click this item then left click an item to apply it. The Incubated item drops after killing a specific number of monsters.

random item
Automatic
1
The Void

The Void

1

Reach into the Void and claim your prize.

random divination card set exchange
Automatic
Legacy variants
Doedre's Skin has a legacy variant.
Version Discontinued
Modifiers
3.5.0




Socketed Curse Gems are Supported by Level 20 Blasphemy
Grants Level 20 Summon Doedre's Effigy Skill
Socketed Hex Curse Skills are Triggered by Doedre's Effigy when Summoned
Hexes from Socketed Skills ignore Curse Limit
+(30-40) to Intelligence
(130-150)% increased Energy Shield

(33-25)% reduced Effect of your Curses
Gallery
Version history
Version
Changes
3.5.0

No longer reduces the effect of your curses (you can use a Divine Orb to remove this on existing versions).
Curses socketed in Doedre's Skin now have 25% reduced Effect of Curses.
The Summon Doedre's Effigy skill is now Instant and has a 0.5 second cooldown. You can now have up to 3 Effigies at once.

3.1.0
References