m

(cesspool)

Line 3:
Line 3:
 
 
 

In [[the Western Forest]] players find a [[Proclamation]] in the center of the stone circle - a stone plaque with a description of the fault of the Doedre and the award for her punishment.

 

In [[the Western Forest]] players find a [[Proclamation]] in the center of the stone circle - a stone plaque with a description of the fault of the Doedre and the award for her punishment.

 
+
 
+

Deodre lives in its [[Doedre's Cesspool|Cesspool]], which is located in the Toxic Sewers.

 
 
 

==Encounters==

 

==Encounters==
---
Revision as of 07:43, 26 August 2020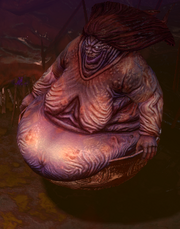 Doedre Stamatis was a thaumuturgist and Maligaro's pupil.[1] When Maligaro cut her tongue off, she embraced her loss and took on the surname Darktongue and took on an innovative mean of spellcasting -- from the theme of items, presumably curses. [2]
In the Western Forest players find a Proclamation in the center of the stone circle - a stone plaque with a description of the fault of the Doedre and the award for her punishment.
Deodre lives in its Cesspool, which is located in the Toxic Sewers.
Encounters
Doedre is battled several times in the storyline:
Furthermore she can be encountered in the following maps:
Related items
References
↑ Doedre's Tenure - While Doedre lacked Maligaro's sense of style, she surpassed her master in pure malevolence.
↑ Doedre Darktongue - Steam Trading Card description