Domain of Timeless Conflict
Map area, Unique Map area
| | |
| --- | --- |
| Id | LegionLeague |
| Act | 1 |
| Area level | 68 |
| Tags | map, no_leaguestone, map_not_on_atlas |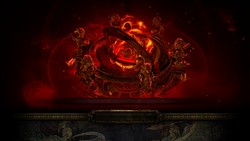 Minimap is Revealed
The Domain of Timeless Conflict is only accessible by using Emblems in a map device.
To open the area, you must use at least two different emblems with no duplicates. The number of emblems used affects the area level of this map.
Mechanics
The zone contains a crater with a monolith in the center. Standing near it will spawn all enemies and start a timer. When all generals are killed, you can return to the monolith to respawn half the killed enemies again. You can do this until the timer runs out. All items will drop after the timer runs out near the monolith. Item drop rate decays as more enemies are killed.
Completing the Domain of Timeless Conflict with four factions unlocks a fifth slot for the map device.
Monsters
Depending on the combination of the Emblems used, the area features these bosses:
Items found in this area
There are currently no items that have a drop table specific to this area.
Version history
Version
Changes
3.8.0

Item rewards within the Domain of Timeless Conflict now diminish over time. Experience does not change.
Item reward variance from Domain of Timeless Conflict encounters of differing numbers of Emblems has been flattened. You'll now receive approximately the same quantity of items per Emblem used in 2-Emblem encounters as in 5-Emblem encounters.

3.7.5c

Fixed a bug that prevented the Domain of Timeless Conflict encounter from beginning in non-Legion leagues.

3.7.0