This page is about monsters classified as elementals. For the damage type, see
elemental damage
.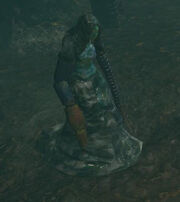 Any who lived in Carian, both before and after the city's fall, have heard the tragic tale of Merveil, the maiden. She was Carian's shining beauty, the envy of women, the conquest of men. Alas, her fate was a dark one. The lady was corrupted by a mysterious gemstone, which drove her insane before it twisted her body as much as her mind. Merveil was married to one of Wraeclast's most famed swordsmen, Daresso, who won her hand with the unwitting present of the jewel that ultimately destroyed her. When his bride had become hopelessly ruined by the cursed stone, and when her growing madness threatened his own life, Daresso abandoned her.
In her grief, that pathetic girl exiled herself to the coast, where she remained for years, growing ever more disfigured and powerful. She hid from the sun by day, but at night she would stand in the surf, weeping and singing to the waves, beseeching her lost husband to return to her. Merveil's tears mixed with the waters of the sea, producing a dark alchemy of rage and magical corruption. The taint of her grief imbues the briny waves with life, filling them with a deadly energy and purpose. Anyone foolhardy enough to venture into Wraeclast's countless swamps and bogs may well find themselves beset by the dreaded Water Elementals, born of Merveil's sorrow. They appear as rippling columns of animated, brackish water that slide over the earth, bent on destruction.
Merveil's tears can manifest as an Elemental in any body of water on Wraeclast. From a small pond, to a waterfall, to the ocean itself, nothing is free from her wrath and corruption. The Elementals appear out of nowhere, bursting up in a violent spray. They attack with makeshift appendages fashioned from the scavenged bodies of dead sea creatures, and they are extremely difficult to defeat.
Abilities
All varieties:
Variations
Name
Location
Special Attributes
Tide Strider
The Tidal Island, The Mud Flats, The Submerged Passage

Resists Fire - Deal cold damage

Seething Brine
The Ship Graveyard, The Ship Graveyard Cave, The Cavern of Anger, The Warehouse Sewers
Casts Cold Snap

Cold Snap

Spell, AoE, Cold, Duration
Level: (1-20)
Cost: (11-28) Mana
Cooldown Time: 3.00 sec
Can Store 1 Use(s)
Cast Time: 0.85 sec
Critical Strike Chance: 6.00%
Effectiveness of Added Damage: 140%
Radius: 16Requires Level 16

Creates a sudden burst of cold in a targeted area, damaging enemies. This also creates an expanding area which is filled with chilled ground, and deals cold damage over time to enemies. Enemies that die while in the area have a chance to grant Frenzy Charges. The cooldown can be bypassed by expending a Frenzy Charge.

Per 1% Quality:1

Superior

2

Anomalous

3

Divergent

0.5% increased Area of Effect

1% increased Effect of Chill

2% increased Damage with Hits and Ailments

Deals (32-666) to (47-999) Cold Damage
Base duration is 5 seconds
Deals (26.3-1193.2) Base Cold Damage per second
25% chance to gain a Frenzy Charge when an Enemy Dies while in this Skill's Area
Modifiers to Spell Damage apply to this Skill's Damage Over Time effect
(0-19)% increased Effect of Chill

Place into an item socket of the right colour to gain this skill. Right click to remove from a socket.

- Resists Fire - Deal cold damage
Boiling Ambusher
The Wetlands
Pure Water
The Solaris Temple Level 2, Forgotten Conduit

Resists Fire - Summoned by

The Goddess of Purity and Torrent of Fear
Holy Water
The Solaris Temple Level 2
Casts Ice Nova

Ice Nova

Spell, AoE, Cold, Nova
Level: (1-20)
Cost: (8-23) Mana
Soul Gain Prevention: 0 sec
Cast Time: 0.70 sec
Critical Strike Chance: 6.00%
Effectiveness of Added Damage: 120%
Radius: 30Requires Level 12

A chilling circle of ice expands from the caster. If the caster targets near their Frostbolt projectiles, it will expand from a number of those projectiles instead. If this skill would repeat when cast this way, it will instead expand again from the same projectiles after a short delay.

Per 1% Quality:1

Superior

2

Anomalous

3

Divergent

4

Phantasmal

0.5% increased Area of Effect

1.5% increased Damage with Hits against Chilled Enemies

0.5% increased Cast Speed

0.5% increased Effect of Chill

Deals (18-518) to (26-762) Cold Damage
Can expand from up to 2 Frostbolt Projectiles
Adds (3-79) to (4-116) Cold Damage against Chilled Enemies
20% less Area of Effect when Cast on Frostbolt
+(0-4) to radius

Place into an item socket of the right colour to gain this skill. Right click to remove from a socket.

- Resists Fire - Deal cold damage
Blood Elemental
The Lunaris Temple Level 2

Resists Fire

Congealing Blood
Summoned by monsters with Living Blood Bloodlines mod
Resists Fire - Casts Desecrate

Desecrate

Spell, AoE, Duration, Chaos
Level: (1-20)
Cost: (11-26) Mana
Cast Time: 0.60 secRequires Level 16

Desecrates the ground, summoning corpses and dealing chaos damage to all enemies in the area. The corpses will be chosen from the monsters in the current area and any Spectres that have existed in this instance.

Per 1% Quality:1

Superior

2

Anomalous

3

Divergent

4

Phantasmal

1% increased Cast Speed

10% increased Chaos Damage

3% chance to spawn an additional Corpse

Each Corpse spawned has 1% chance to be a Forgotten Corpse

Base duration is 4 seconds
Deals (8.2-294) Base Chaos Damage per second
Spawns 5 corpses
Spawns corpses up to Level (20-100)
Maximum of 10 corpses allowed

Place into an item socket of the right colour to gain this skill. Right click to remove from a socket.

- Flesh Offering

Flesh Offering

Minion, Spell, Duration
Level: (1-20)
Cost: (16-33) Mana
Cast Time: 1.00 secRequires Level 12

Consumes a corpse, which temporarily empowers your minions with swiftness. The skill consumes other nearby corpses, increasing the duration for each corpse consumed.

Per 1% Quality:1

Superior

2

Anomalous

3

Divergent

0.5% increased Skill Effect Duration

Grants Minions 0.02% of Damage Leeched as Life

Grants Minions 0.5% increased Attack Speed

Base duration is 5 seconds
Grants Minions (20-30)% increased Attack Speed
Grants Minions (20-29)% increased Movement Speed
Grants Minions (20-30)% increased Cast Speed
Additional 1 seconds Base Duration per extra corpse Consumed

Place into an item socket of the right colour to gain this skill. Right click to remove from a socket.

- Ground Slam

Ground Slam

Attack, AoE, Slam, Melee
Level: (1-20)
Cost: 6 Mana
Attack Speed: 90% of base
Attack Damage: (115-150)% of base
Effectiveness of Added Damage: (115-150)%
Radius: 35

Slams the ground in front of you, creating a wave that travels forward and damages enemies with an increased chance to stun. The wave deals more damage to closer enemies. Requires an Axe, Mace, Sceptre, Staff or Unarmed.

Per 1% Quality:1

Superior

2

Anomalous

3

Divergent

1% increased Stun Duration on enemies
0.5% increased Area of Effect

0.5% increased Attack Speed

3% increased Area of Effect
2% reduced angleDeals (115-188)% of Base Attack Damage
25% reduced Enemy Stun Threshold
Deals up to (40-49)% more Damage to closer targets
+(0-6) to radius

Place into an item socket of the right colour to gain this skill. Right click to remove from a socket.

Blood of Haast
Spawn as Beyond Demons
Resists Cold, Extra Cold Damage, casts Ice Nova

Ice Nova

Spell, AoE, Cold, Nova
Level: (1-20)
Cost: (8-23) Mana
Soul Gain Prevention: 0 sec
Cast Time: 0.70 sec
Critical Strike Chance: 6.00%
Effectiveness of Added Damage: 120%
Radius: 30Requires Level 12

A chilling circle of ice expands from the caster. If the caster targets near their Frostbolt projectiles, it will expand from a number of those projectiles instead. If this skill would repeat when cast this way, it will instead expand again from the same projectiles after a short delay.

Per 1% Quality:1

Superior

2

Anomalous

3

Divergent

4

Phantasmal

0.5% increased Area of Effect

1.5% increased Damage with Hits against Chilled Enemies

0.5% increased Cast Speed

0.5% increased Effect of Chill

Deals (18-518) to (26-762) Cold Damage
Can expand from up to 2 Frostbolt Projectiles
Adds (3-79) to (4-116) Cold Damage against Chilled Enemies
20% less Area of Effect when Cast on Frostbolt
+(0-4) to radius

Place into an item socket of the right colour to gain this skill. Right click to remove from a socket.

Aggravated Wound
The Harvest
Uniques
Version history
Version
Changes
2.3.0

Some of the Water Elemental packs in Maps now contain ones that use Vortex

Vortex

Spell, AoE, Cold, Duration, Nova
Level: (1-20)
Cost: (11-20) Mana
Cooldown Time: 1.80 sec
Can Store 1 Use(s)
Soul Gain Prevention: 0 sec
Cast Time: Instant
Critical Strike Chance: 6.50%Requires Level 28

An icy blast explodes around the caster, dealing cold damage to enemies, and leaving behind a whirling vortex which deals cold damage over time and chills enemies caught in it. If the caster targets near their Frostbolt projectiles, it will explode from a number of those projectiles instead, destroying them.

Per 1% Quality:1

Superior

2

Anomalous

3

Divergent

4

Phantasmal

0.5% increased Area of Effect

1% increased Cold Damage

1% increased Cooldown Recovery Rate
1% less Skill Effect Duration

2% increased Damage when Cast on Frostbolt

Deals (38-524) to (57-787) Cold Damage
Base duration is 3 seconds
Deals (106.5-1456.9) Base Cold Damage per second
Can explode from up to 5 Frostbolt Projectiles
20% less Area of Effect when Cast on Frostbolt
Modifiers to Spell Damage apply to this Skill's Damage Over Time effect
(0-76)% increased Cooldown Recovery Rate

Place into an item socket of the right colour to gain this skill. Right click to remove from a socket.

.

0.9.12k

Reduced the size of packs of Water Elementals and changed them to not spam Cold Snap

Cold Snap

Spell, AoE, Cold, Duration
Level: (1-20)
Cost: (11-28) Mana
Cooldown Time: 3.00 sec
Can Store 1 Use(s)
Cast Time: 0.85 sec
Critical Strike Chance: 6.00%
Effectiveness of Added Damage: 140%
Radius: 16Requires Level 16

Creates a sudden burst of cold in a targeted area, damaging enemies. This also creates an expanding area which is filled with chilled ground, and deals cold damage over time to enemies. Enemies that die while in the area have a chance to grant Frenzy Charges. The cooldown can be bypassed by expending a Frenzy Charge.

Per 1% Quality:1

Superior

2

Anomalous

3

Divergent

0.5% increased Area of Effect

1% increased Effect of Chill

2% increased Damage with Hits and Ailments

Deals (32-666) to (47-999) Cold Damage
Base duration is 5 seconds
Deals (26.3-1193.2) Base Cold Damage per second
25% chance to gain a Frenzy Charge when an Enemy Dies while in this Skill's Area
Modifiers to Spell Damage apply to this Skill's Damage Over Time effect
(0-19)% increased Effect of Chill

Place into an item socket of the right colour to gain this skill. Right click to remove from a socket.

as much.

0.9.9c

Reduced the damage of Ice Nova

Ice Nova

Spell, AoE, Cold, Nova
Level: (1-20)
Cost: (8-23) Mana
Soul Gain Prevention: 0 sec
Cast Time: 0.70 sec
Critical Strike Chance: 6.00%
Effectiveness of Added Damage: 120%
Radius: 30Requires Level 12

A chilling circle of ice expands from the caster. If the caster targets near their Frostbolt projectiles, it will expand from a number of those projectiles instead. If this skill would repeat when cast this way, it will instead expand again from the same projectiles after a short delay.

Per 1% Quality:1

Superior

2

Anomalous

3

Divergent

4

Phantasmal

0.5% increased Area of Effect

1.5% increased Damage with Hits against Chilled Enemies

0.5% increased Cast Speed

0.5% increased Effect of Chill

Deals (18-518) to (26-762) Cold Damage
Can expand from up to 2 Frostbolt Projectiles
Adds (3-79) to (4-116) Cold Damage against Chilled Enemies
20% less Area of Effect when Cast on Frostbolt
+(0-4) to radius

Place into an item socket of the right colour to gain this skill. Right click to remove from a socket.

for Merveil and Water Elementals.
Reduced chill and freeze duration of Cold Snap for Merveil and Water Elementals.
Reduced the distance that Merveil and Water Elementals can Cold Snap you from.

0.9.9

Water Elementals (which now deal mostly cold damage) have been added to the Tidal Island. Water Elementals in other areas have a variety of skills available such as Cold Snap, Ice Nova and some Curses, which they use in correct situations.

0.9.7

Many monsters have new skills - [...] and Water Elementals use Ice Nova.

0.9.5b

Fixed the volume of the Water Elemental emerge sound.

0.8.5

Disable corpse-usability on Water Elementals