Empire's Grasp
Goliath Gauntlets
Quality: +20%
Armour: (688-928)
Requires Level 53, 76 Str
Socketed Gems are Supported by Level 10 Knockback
+(400-600) to Armour
Knockback direction is reversed
"I like my vassals at sword point,
but my enemies as close as the hilt."
- Emperor Chitus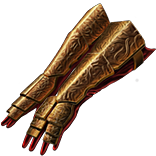 Vendor Prices
Vendor Offer
8x Alchemy Shard
3x Alteration Shard
Metadata
Item class: Gloves
Empire's Grasp is a pair of unique
Goliath GauntletsGoliath GauntletsArmour: 174Requires Level 53, 76 Str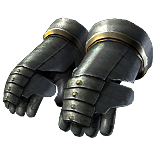 .
Modifiers
Applicable skill gems socketed in this item are supported by level 10
Knockback SupportKnockback SupportSupport
Icon: k
Level: (1-20)Requires Level 8Supports any skill that hits enemies.Per 1% Quality:1Superior2Anomalous3DivergentSupported Skills have 0.5% chance to Knock Enemies Back on hitSupported Skills deal 0.5% increased DamageSupported Skills have 2% increased Knockback DistanceSupported Skills have (25-44)% chance to Knock Enemies Back on hit
Supported Skills have 50% increased Knockback DistanceThis is a Support Gem. It does not grant a bonus to your character, but to skills in sockets connected to it. Place into an item socket connected to a socket containing the Active Skill Gem you wish to augment. Right click to remove from a socket.
. This equals a 34% chance to knock enemies back on hit.
Item acquisition
Upgrade paths
This item can be acquired through the following upgrade paths or vendor recipes:

Amount
Ingredient
General
Notes
Type
5
Mitts

Mitts

5

Gloves

Those whose hands are their livelihood know the importance of keeping them safe and warm.

random gloves
Automatic
7
Prejudice

Prejudice

7

Item


Influenced ItemOne who is blinded by their past may
only see a sliver of the present.
random influenced item
Automatic
8
Arrogance of the Vaal

Arrogance of the Vaal

8

Item


Two-Implicit


Corrupted

Discovery can lead to beauty, or it can lead to ruin.

random two-implicit corrupted item
Automatic
4
Jack in the Box

Jack in the Box

4

ItemTurn the crank,
close your eyes,
and pray to the gods
for a pleasant surprise.
random item
Automatic
1
Singular Incubator

Singular Incubator

Adds an incubated Unique item to an equippable item
Item drops after killing # monsters

Unique Item

Right click this item then left click an item to apply it. The Incubated item drops after killing a specific number of monsters.

random item
Automatic
1
The Void

The Void

1

Reach into the Void and claim your prize.

random divination card set exchange
Automatic
Supporter attribution
Empire's Grasp was created by supporter dmouze.
Gallery
Version history
| Version | Changes |
| --- | --- |
| 3.3.0 | |
| 2.0.0 | |