Endless Delve is a special game mode for race event, which, as the name suggests, the race is focused on delving in the Azurite Mine.
The most recent event awards the winning players
Demigod's AuthorityDemigod's Authority
Golden BladeOne Handed Sword
Quality: +20%
Physical Damage: 3.6-27.6
Critical Strike Chance: 5.00%
Attacks per Second: 1.10
Weapon Range: 11+(16-24) to all AttributesYou and Nearby Allies have 30% increased Item Rarity
5% increased Character SizeStories of Heroism by the victor persist,
for no one survives to contest them.
.
Starting weapons
The starting weapons are class specific: [1]
Areas
Azurite Mine Encampment
area
| | |
| --- | --- |
| Id | Delve_Endless |
| Act | 0 |
| Area level | 1 |
| Area type tags | cavern |
| Tags | indoors_area |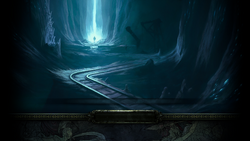 The Endless Delve uses the nodes of a normal Azurite Mine.
The player character start at the Azurite Mine Encampment, which has Niko and Lilly Roth as vendor NPCs.
Through levelling to certain character levels, the player character earns passive skill points that normally from side quests, as well as earns the rights to choose Ascendancy class that normally unlock via The Lord's Labyrinth.[1]
Version history
| Version | Changes |
| --- | --- |
| 3.12.5b | |
References