Enlightened Hideout
Hideout area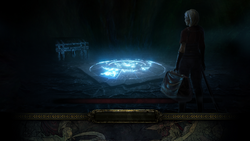 Enlightened Hideout is a hideout. It uses the Library tileset. The walls are made of bookshelves.
Unlocking
Enlightened Hideout can be found in
Academy MapAcademy MapMap Level: 71
Map Tier: 4
Guild Character: ÆThey came for enlightenment, but were imprisoned by madness.Travel to this Map by using it in a personal Map Device. Maps can only be used once.
.
Version history
Version
Changes
3.5.0

No longer unlock via Elreon, Loremaster. Now can be found in Map.
Now have the maximum size when unlocked

Unknown