Entombed Chamber
Vaal side area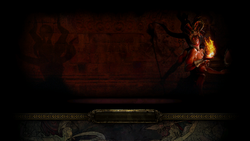 Entombed Chamber is a vaal side area that can be found in The Catacombs by open a sarcophagus with Vaal blood and text over it.
Map version with different internal id (MapSideArea3_4) can be found in map by random. Using a Vaal Fragment can also open 6 portals to a random vaal side area.
Monsters
Items found in this area
Item
The Cataclysm

The Cataclysm

13

Level 21 Spell Gem
Corrupted

The mighty warriors traded in blows, the nimble archers in arrows, yet it was the brazen thaumaturgists who would bring catastrophe to all.

1
Vanity

Vanity

9

Tabula Rasa
Corrupted

1
Lore
It contains Vaal Letter no. 10.
Gallery
Version history
Version
Changes
3.10.0

Vaal Side Areas found in maps and those created by placing individual Vaal fragments in the map device now count as map areas for the purposes of map drops and other mechanics which interact with map areas.
For full changes related to map version of the vaal side area, read Version 3.10.0 § Endgame Vaal Side Area Improvements

3.9.0

Maps now have a 10% chance to contain a Vaal Side Area.

1.1.0