Equipment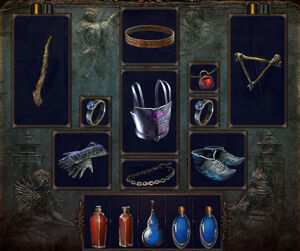 Equipment refers to weapons, armour, accessories, and flasks that a character can use.
Weapons
Weapons are equipment used to perform attacks or channel spells.
Types of weapons:
Armour
Armour is a category of equipment placed on different parts of the body to provide protection and bonuses from magical properties.
Types of armour:
Accessories
Accessories do not implicitly provide protection like armour, but are useful for their magical properties.
Types of accessories:
Flasks
Flasks are used to store potions that can be drunk to restore life or mana. There are other types of flasks that provide a temporary benefit when imbibed.