Esh's Domain
Map area, Unique Map area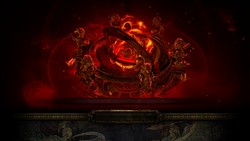 100% increased Experience gain
12% increased Monster Damage
Area does not contain Rogue Exiles (Hidden)
Minimap is Revealed
Esh's Domain is an area that is only accessible when
Esh's BreachstoneEsh's BreachstoneCan be used in a personal Map Device.
is used in a map device.
The area has a single breach at the beginning. When you touch it a countdown starts at 25 seconds and runs down until you come close to the arena of the Breachlord Esh. The countdown goes up by 1 second per kill.
Monsters
Items found in this area
Item
The Gambler

The Gambler

5

Divination Card

"I don't believe in karma. If it were real, I would never win."

1
The Encroaching Darkness

The Encroaching Darkness

8

Map
Corrupted

No matter where your dreams take you, Nightmare follows close behind.

1
The Escape

The Escape

5

Seven-League Step

In fleeing reality, you step into the realm of madness.

1
Version history
| Version | Changes |
| --- | --- |
| 2.5.0 | |