Estuary MapMap Level: 79
Map Tier: 12
Guild Character: sTravel to this Map by using it in the Templar Laboratory or a personal Map Device. Maps can only be used once.
Acquisition
Area level: 79
DROP DISABLEDVendor Offer
1x Scroll FragmentMetadata
Item class: Maps
Metadata ID: Metadata/Items/Maps/MapAtlasEstuary
| | |
| --- | --- |
| Id | MapAtlasEstuary |
| Act | 11 |
| Area level | 79 |
| Bosses | Sumter the Twisted |
| Area type tags | beach |
| Tags | area_with_water, map, no_echo, einharmaps, map_area_with_open_water |
| | The Shaper: Where land springs from water, life will shortly follow. |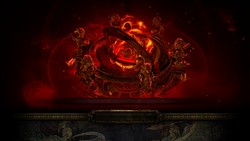 Estuary is a map base type. It is an area where lava and sea meet, creating a solid ground. It reminds of a beach with sea on one side and lake of lava on the other side. A quote from Rhys regarding the design of this area. "It's a mashup of generic beach shore tiles and Kaom's Dream mountain tiles, with the lava swapped for water."[1] The area is mostly linear.
Boss Arena
The arena is a rectangular open space surrounded by rocks and lava. Entrance seals when the boss is engaged.
Boss
Sumter the Twisted, a humanoid mage with the following abilities:
Attacks with 4 projectiles, half of which deal Cold damage and the other half Fire damage.
Casts a line of Ice Storms across the arena.
Casts a line of Firestorms across the arena.
At 66% and 33% health summons Flarus and Frosis. Sumter disappears until they are killed.
Flarus, a unique fire golem with the following abilities:
Attacks with 3 Fire projectiles.
Casts a delayed Fire explosion.
Frosis, a unique ice golem with the following abilities:
Attacks with 3 Cold projectiles.
Casts a delayed Cold explosion.
Casts Cold Snap
Strategy
Sumter's damage is reasonable, but it's a good idea to bring protection against being Frozen and Ignited. The ideal strategy is to always be behind him, but all the projectiles he fires stop when they reach target distance, so a single decoy between players and the boss can be enough to avoid most of his damage. The storm lines don't last very long and he seems to use Ice Storm more often. When fighting golems don't stand in one place for too long or watch out for the explosion markers.
Boss video
Item acquisition
This item is drop disabled.
Upgrade paths
This item can be acquired through the following upgrade paths or vendor recipes:

Amount
Ingredient
Type
3
Chateau Map

Chateau Map

Map Level: 78
Map Tier: 11
Guild Character: Û

Travel to this Map by using it in the Templar Laboratory or a personal Map Device. Maps can only be used once.

Manual
3
Shaped Ramparts Map

Shaped Ramparts Map

Map Level: 78
Map Tier: 11
Guild Character: l

Travel to this Map by using it in the Templar Laboratory or a personal Map Device. Maps can only be used once.

Manual
3
Shaped Wharf Map

Shaped Wharf Map

Map Level: 78
Map Tier: 11
Guild Character: M

Travel to this Map by using it in the Templar Laboratory or a personal Map Device. Maps can only be used once.

Manual
Usage in upgrade paths
This item is used by upgrade paths or vendor recipes to create the following items:

Outcome
Amount
Ingredient
Type
Lighthouse Map

Lighthouse Map

Map Level: 80
Map Tier: 13
Guild Character: w

Travel to this Map by using it in the Templar Laboratory or a personal Map Device. Maps can only be used once.

3
Estuary Map

Estuary Map

Map Level: 79
Map Tier: 12
Guild Character: s

Travel to this Map by using it in the Templar Laboratory or a personal Map Device. Maps can only be used once.

Manual
Divination card
The following divination card can drop in this area:
The Gambler

The Gambler

5

Divination Card

"I don't believe in karma. If it were real, I would never win."

Lingering Remnants

Lingering Remnants

16

Vaal Temple Map


Item Level:

83


CorruptedNever dying, yet not living,
Endlessly they wander
beneath the harvest moon.
Heterochromia

Heterochromia

2

Two-Stone RingBlack and White, Silver and Gold
Let us see the world Unfold
Red and Blue, Yellow and Green
Let us remake it in colours Unseen
Other versions
Version history
Version
Changes
3.5.0

The Atlas of Worlds has been shuffled. Most maps have changed tier and location within the Atlas.
Many map bosses have also shifted around. Some have been retired and replaced!

3.1.0

Added 32 new maps including two new Unique maps.
The entire Atlas has been reworked. Many map names have changed, as have their balance, tier and position on the Atlas. Many maps have also had their boss fights swapped or completely reworked.
The rules used to generate monsters in endgame maps have been significantly reworked and rebalanced around the rate at which we expect players to reliably clear out the map. In general, narrow, linear maps will contain fewer total monsters than maps with complex layouts. We will be closely monitoring and adjusting the balance of this change and expect to make further changes and improvements over time.

2.4.0
References