This article describes new Path of Exile content released in version 3.15.0. Information may be missing or incorrect.
Please expand this article so that it provides complete and accurate information.
Expedition league
Challenge league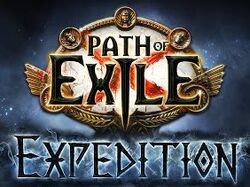 In Path of Exile: Expedition, you will join the Kalguuran expedition, excavate their lost relics and undead using chains of explosives, then barter, deal and gamble these relics with their merchants.

Path of Exile Expedition league official webpage
Expedition league is a challenge league. It will launch on July 23, 2021 (UTC), alongside the Version 3.15.0 patch.
This league introduces four NPC characters from the Kalguuran expedition, who came to Wraeclast to excavate their ancestor's lost settlements. Using explosives, the player sets them around the expedition site to unearth the monsters or treasure hiding underneath. After recovering artifact pieces from the expedition, you can barter or gamble with them for items. Kalguuran equipment have a special defense stat called Ward, which shields the user from damage on the next hit they take and replenishes after a delay.
League mechanic
Items
These items are introduced to the Expedition leagues and are exclusive to Expedition league:
Unique items
Challenges and rewards
Main page:
List of expedition league challenges
The Expedition leagues include 40 optional challenges. Completing them awards the following microtransactions: List of expedition league challenges
Version history
| Version | Changes |
| --- | --- |
| 3.15.0 | |
References