Far Shot is a keyword found on several item modifiers, on monster as well as Ascendancy passive skill of the same name.
Far Shot modifier grants Projectile Attack Hits deal 20% less Damage to targets at the start of their movement, dealing up to 60% more Damage to targets as the projectile travels farther.
Mechanics
As the projectile begins to move from its point of origin, the attack gains more damage, capped at 60% more damage. It is important to note that damage scaling is done with respect to the total distance the projectile has travelled, not its current distance from the point of origin. If the projectile changes direction—as is the case with
Spectral ThrowSpectral ThrowAttack, Projectile
Level: (1-20)
Cost: (7-9) Mana
Attack Speed: 110% of base
Projectile Speed: 1000Throws a spectral copy of your melee weapon. It flies out and then returns to you, in a spinning attack that damages enemies in its path.Per 1% Quality:1Superior2Anomalous3Divergent0.5% increased Attack Speed1% increased Projectile Speed0.5% reduced Projectile Speed
Fires an additional ProjectileDeals (80-100)% of Base Attack DamagePlace into an item socket of the right colour to gain this skill. Right click to remove from a socket.
—distance travelled continues to increase as the projectile returns to its point of origin.
According to 3.13 patch note:
| Distance | Multiplier |
| --- | --- |
| 0 | 80% |
| 35 | 120% |
| 70 | 160% |
| 150 | 160% |
Interactions
Point Blank
Point Blank and Far Shot are multiplicative together (since they are more/less multipliers), and thus helps counteract the damage falloff at distance.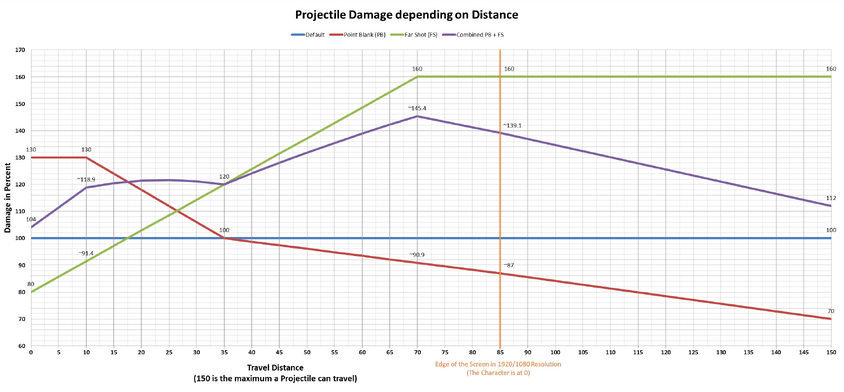 Longshot
Longshot functions similar to Far Shot, but instead offers increased Damage instead of more Damage.
Due to the additive Nature of "increased" modifiers, making a general Statement on it's overall benefits is impossible, as every Build has different Amounts of "increased" Modifiers.
If you take Far Shot due to wanting to deal better with Enemies at Range, then Longshot certainly is a good choice as well.
On Enemies
Far Shot is also used as a monster modifier. It is used by Retchs, Maelströms, Voidbearers, as well as some unique monsters.
Presumably, monsters share the same damage mechanics as this keyword.
Related unique items
The following unique items are related to Far Shot:
Item
Base Item
Stats
The FledglingThe Fledgling
Lacquered HelmetQuality: +20%
Armour: (372-441)
Evasion: (372-441)Requires Level 51, 57 Str, 57 Dex(150-200)% increased Armour and Evasion
(30-50)% increased Projectile Speed
(30-50)% increased Projectile Damage
Projectiles cannot collide with Enemies at Close Range
Far Shot

The single well-placed arrow that changes the world must be preceded by ten thousand practice shots.

Lacquered Helmet
51
(150-200)% increased Armour and Evasion
(30-50)% increased Projectile Speed
(30-50)% increased Projectile Damage
Projectiles cannot collide with Enemies at Close Range
Far Shot
Beltimber BladeBeltimber Blade
Eternal SwordOne Handed Sword
Quality: +20%
Physical Damage: (125.05-137.35) to (207.4-227.8)
Critical Strike Chance: 5.00%
Attacks per Second: (1.72-1.80)
Weapon Range: 11Requires Level 66, 104 Str, 122 Dex+475 to Accuracy Rating(185-215)% increased Physical Damage
(15-20)% increased Attack Speed
80% increased Evasion Rating while moving
Skills fire 2 additional Projectiles if you've used a Movement Skill Recently
Far ShotBy wind and wing they are carried,
Their fates not theirs to control,
Yet the fates of others dragged in their wake.
Eternal Sword
66
+475 to Accuracy Rating(185-215)% increased Physical Damage
(15-20)% increased Attack Speed
80% increased Evasion Rating while moving
Skills fire 2 additional Projectiles if you've used a Movement Skill Recently
Far Shot
Lioneye's GlareLioneye's Glare
Imperial BowBow
Quality: +20%
Physical Damage: (70.2-94.4) to (264.6-324.5)
Critical Strike Chance: 5.00%
Attacks per Second: (1.59-1.74)
Weapon Range: 120Requires Level 66, 212 Dex(20-24)% increased Elemental Damage with Attack Skills(150-175)% increased Physical Damage
Adds (6-12) to (20-32) Physical Damage
(10-20)% increased Attack Speed
+(80-100) to maximum Mana
Hits can't be Evaded
Far Shot"See without doubt, slay without hesitation."
- Marceus Lioneye of Sarn
Imperial Bow
66
(20-24)% increased Elemental Damage with Attack Skills(150-175)% increased Physical Damage
Adds (6-12) to (20-32) Physical Damage
(10-20)% increased Attack Speed
+(80-100) to maximum Mana
Hits can't be Evaded
Far Shot
Ascendancy passives
See also
Version history
| Version | Changes |
| --- | --- |
| 3.13.0 | The Far Shot keyword now causes your projectiles to deal 20% less damage at very close range (previously no penalty), up to 60% more at a range of 70 or greater (previously 30% more). |
| 3.0.0 | Added a new keyword -- Far Shot: Projectile Attacks gain Damage as they travel farther, dealing up to 30% more Damage to targets. |
| 1.0.0 | Some monsters now have "Far Shot" causing them to do less damage to closer targets and more damage to farther away targets. |