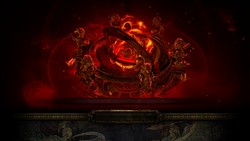 Farrul's Den is an end-game area where the battle with Farrul, First of the Plains takes place.
Accessibility
Capture Farric Tiger Alpha to unlock a beastcrafting recipe that open 6 portals to Farrul's Den. If you had unlocked the recipe in previous leagues, you can purchase the red beast Farric Tiger Alpha from other players directly. The recipe requires 3 others yellow beasts.
Boss
Items found in this area
There are currently no items that have a drop table specific to this area.
Item from boss
The boss will always drop one of these unique items:
Version history
| Version | Changes |
| --- | --- |
| 3.2.0 | |