Flooded Mine Map
Map Level: 68
Map Tier: 1
Guild Character: ?
In darkness, beast and man alike clamour to survive.
Travel to this Map by using it in the Templar Laboratory or a personal Map Device. Maps can only be used once.
Acquisition
Area level: 58


DROP DISABLED
Vendor Prices
Vendor Offer
1x Scroll Fragment
Metadata
Item class: Maps

| | |
| --- | --- |
| Id | MapWorldsFloodedMine |
| Act | 11 |
| Area level | 69 |
| Bosses | The Eroding One |
| Area type tags | cave |
| Tags | indoors_area, map, einharmaps, mine_area, cave_area, flooded_area |
| | The Shaper: In darkness, beast and man alike clamour to survive. |
| Vaal Areas | Concealed Cavity (MapSideArea1_2) |
In darkness, beast and man alike clamour to survive.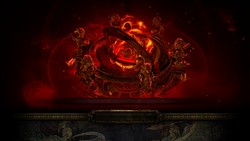 Flooded Mine Map is a map area.
Layout
Encounters
Boss
Boss video
Items found in this area
Item
The Gambler

The Gambler

5

Divination Card

"I don't believe in karma. If it were real, I would never win."

1
Death

Death

4

Mon'tregul's GraspThe end of the old,
the beginning of the new.
A unique opportunity for transformation,
for those with the power
to grasp it.
1
Gift of the Gemling Queen

Gift of the Gemling Queen

9

Level 20 Support GemOur Lady Dialla,
as a symbol of our progress,
shines greater than all the gems.
1
The Survivalist

The Survivalist

3

7x Orb of AlchemyA lucky number
For us all
To help us through
The perils told.
1
Volatile Power

Volatile Power

9

Superior Vaal Gem


Quality:

+20%


Corrupted

Unlimited power is apt to corrupt the minds of those who possess it.

1
Glimmer of Hope

Glimmer of Hope

8

Gold Ring

When you dwell in total darkness, even the faintest light may guide you out.

1
Her Mask

Her Mask

4

Sacrifice FragmentTo her beauty you submit,
lest your neck the great Queen slit.
1
Treasure Hunter

Treasure Hunter

7

Vaults of Atziri
Corrupted"Don't worry, I know what I'm doing."
- Toggo's Last Words
1
The Endurance

The Endurance

4

Vivid Crimson JewelCrimson rubies, drops of vigour,
flowing through my veins,
flesh like coal, try to crush me,
diamond is what remains.
1
The Wolf

The Wolf

5

Rigwald Item

The largest beasts cannot be overpowered. The Greatwolf teaches us to use guile, not strength, to probe for the soft flesh and strike deep.

1
The Fathomless Depths

The Fathomless Depths

8

Lightpoacher

Fall into endless night; a voyage into an ocean of oblivion.

1
The Rite of Elements

The Rite of Elements

5

Level 21 Golem Gem
CorruptedA mind as quick as lightning,
fists as hard as stone,
a heart that burns with fury,
and eyes that chill to the bone.
1
Buried Treasure

Buried Treasure

3

Sulphite Scarab

You can't seek riches without getting your hands dirty.

1
The Primordial

The Primordial

5

Jewel


Primordial

We play at God with our necromancy,
but forces far more potent
sleep within these stones.
1
Item acquisition
This item is drop disabled.
Unique versions
There are currently no unique items for this base item type.
Version history
Version
Changes
3.5.0

The Atlas of Worlds has been shuffled. Most maps have changed tier and location within the Atlas.
Many map bosses have also shifted around. Some have been retired and replaced!

3.1.0

The entire Atlas has been reworked. Many map names have changed, as have their balance, tier and position on the Atlas. Many maps have also had their boss fights swapped or completely reworked.
The rules used to generate monsters in endgame maps have been significantly reworked and rebalanced around the rate at which we expect players to reliably clear out the map. In general, narrow, linear maps will contain fewer total monsters than maps with complex layouts. We will be closely monitoring and adjusting the balance of this change and expect to make further changes and improvements over time.

2.4.0

Name changed from Abandoned Cavern Map to Cavern Map.
Most existing maps have been revamped to have more balanced monster composition, layouts, boss fights and rewards.

2.2.0

The Mine Map has been renamed to the Abandoned Cave Map. It now has a new boss - The Eroding One.
(Not stated explicitly in patch note) Loathe no longer the map boss

2.1.0

The Terrace and Mine maps now generate with better pathing and more consistent layouts.

0.10.0

The following Map areas have been updated so that they're substantially different in layout to before: Spider Forest

Spider Forest Map

Map Level: 69
Map Tier: 4
Guild Character: Ó

Travel to this Map by using it in the Templar Laboratory or a personal Map Device. Maps can only be used once.

, Jungle Valley

Jungle Valley Map

Map Level: 72
Map Tier: 7
Guild Character: 3

Travel to this Map by using it in the Templar Laboratory or a personal Map Device. Maps can only be used once.

, Waste Pool

Waste Pool Map

Map Level: 72
Map Tier: 7
Guild Character: 1

Travel to this Map by using it in the Templar Laboratory or a personal Map Device. Maps can only be used once.

, Dry Woods

Ashen Wood Map

Map Level: 71
Map Tier: 6
Guild Character: Œ

Travel to this Map by using it in a personal Map Device. Maps can only be used once.

, Cemetery

Cemetery Map

Map Level: 67
Map Tier: 2
Guild Character: C

Travel to this Map by using it in the Templar Laboratory or a personal Map Device. Maps can only be used once.

, Mine

Flooded Mine Map

Map Level: 72
Map Tier: 7
Guild Character: 2

Travel to this Map by using it in the Templar Laboratory or a personal Map Device. Maps can only be used once.

, Underground Sea

Underground Sea Map

Map Level: 74
Map Tier: 9
Guild Character: 9

Travel to this Map by using it in the Templar Laboratory or a personal Map Device. Maps can only be used once.

, Bog

Bog Map

Map Level: 70
Map Tier: 5
Guild Character: Ú

Travel to this Map by using it in a personal Map Device. Maps can only be used once.

, Plateau

Plateau Map

Map Level: 75
Map Tier: 10
Guild Character: )

Travel to this Map by using it in the Templar Laboratory or a personal Map Device. Maps can only be used once.

and Dunes

Dunes Map

Map Level: 66
Map Tier: 1
Guild Character: U

Travel to this Map by using it in the Templar Laboratory or a personal Map Device. Maps can only be used once.

.

0.9.11