Forge of the Phoenix MapMap Level: 83
Map Tier: 16
Guild Character: ¤Travel to this Map by using it in the Templar Laboratory or a personal Map Device. Maps can only be used once.
Acquisition
Area level: 83
DROP DISABLEDVendor Offer
1x Scroll FragmentMetadata
Item class: Maps
Metadata ID: Metadata/Items/Maps/MapWorldsPhoenix
Forge of the Phoenix
Map area

| | |
| --- | --- |
| Id | MapWorldsPhoenix |
| Act | 11 |
| Area level | 83 |
| Bosses | Guardian of the Phoenix |
| Area type tags | dungeon, temple |
| Tags | map, no_echo, cannot_be_twinned, indoors_area, einharmaps, fire_area, fire_prison_area |
| | The Shaper: One of my captors refused redemption. He did not see value in a new life. Now new life surrounds him. |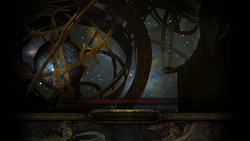 Forge of the Phoenix Map (War for the Atlas) is a map area.
Layout
Indoors. Based on The Crematorium.
Encounters
Boss
The boss of this area, Guardian of the Phoenix, always drops one
Fragment of the PhoenixFragment of the PhoenixItem Quantity: +5%5% increased Quantity of Items found in this AreaEnter the crucible. The nexus of
nothingness and equilibrium of eternity.Can be used in a personal Map Device.
and has a chance to drop one of the following unique items:
Eye of InnocenceEye of Innocence
Citrine AmuletRequires Level 68+(16-24) to Strength and Dexterity10% chance to Ignite
(50-70)% increased Damage while Ignited
Take 100 Fire Damage when you Ignite an Enemy
2% of Fire Damage Leeched as Life while Ignited"...and so He said: 'Let only the good meet my gaze'
and no eye met His. So He called down the cleansing flames
and let black smoke sweep the Sinners away."
- Book of Innocence
Razor of the Seventh SunRazor of the Seventh Sun
Midnight BladeOne Handed Sword
Quality: +20%
Physical Damage: (150-174) to (292.8-322.8)
Critical Strike Chance: 5.00%
Attacks per Second: 1.30
Weapon Range: 11Requires Level 68, 113 Str, 113 Dex40% increased Global Accuracy RatingAdds (90-110) to (145-170) Physical Damage
30% of Physical Damage Converted to Fire Damage
25% chance to Ignite
100% increased Burning Damage if you've Ignited an Enemy Recently
Recover 1% of Life when you Ignite an Enemy
100% increased Melee Physical Damage against Ignited EnemiesQuickly cooled the steel,
but never could it forget
the heat of the forge.
Items found in this area
Item
The Gambler

The Gambler

5

Divination Card

"I don't believe in karma. If it were real, I would never win."

1
The Encroaching Darkness

The Encroaching Darkness

8

Map
Corrupted

No matter where your dreams take you, Nightmare follows close behind.

1
The Wretched

The Wretched

6

Belt

Necromancers, believe me, are more terrifying than their thralls.

1
The Standoff

The Standoff

3

Rustic Sash

Sometimes your greatest enemy is the only one keeping you breathing.

1
Lingering Remnants

Lingering Remnants

16

Vaal Temple Map


Item Level:

83


CorruptedNever dying, yet not living,
Endlessly they wander
beneath the harvest moon.
1
Burning Blood

Burning Blood

6

Xoph's Blood
CorruptedThere's a place where up is down,
where right is wrong,
where pleasure is agony,
and where the living wish only for death.
1
Item acquisition
This item is drop disabled.
Upgrade paths
This item can be acquired through the following upgrade paths or vendor recipes:

Amount
Ingredient
Type
3
Basilica Map

Basilica Map

Map Level: 82
Map Tier: 15
Guild Character: »

Travel to this Map by using it in the Templar Laboratory or a personal Map Device. Maps can only be used once.

Manual
Unique versions
There are currently no unique items for this base item type.
Other versions
See also
Version history
Version
Changes
3.9.1

Zana Atlas Objectives can now offer Shaper Guardian Maps as options as long as you are in a Tier15+ Map.

3.9.0

The Shaper and Elder storyline is gone and has been replaced by a story that takes place in the aftermath of the old story.
The Elder, Shaper, and combined Elder and Shaper encounters can still be accessed. If you're lucky, Zana may offer a Shaper or Elder guardian's map!

3.5.0

The Atlas of Worlds has been shuffled. Most maps have changed tier and location within the Atlas.
Many map bosses have also shifted around. Some have been retired and replaced!

3.1.0

The entire Atlas has been reworked. Many map names have changed, as have their balance, tier and position on the Atlas. Many maps have also had their boss fights swapped or completely reworked.
The rules used to generate monsters in endgame maps have been significantly reworked and rebalanced around the rate at which we expect players to reliably clear out the map. In general, narrow, linear maps will contain fewer total monsters than maps with complex layouts. We will be closely monitoring and adjusting the balance of this change and expect to make further changes and improvements over time.

2.4.0