Forking River Map
Forking River Map
Map Level: 70
Map Tier: 3
Guild Character: ^
Great stone towers tore at the natural order
and were promptly put in their place.
Travel to this Map by using it in a personal Map Device. Maps can only be used once.
Additional Information
Region Upgrades Chart
Upgrade Level
0
1
2
3
4
Tier
3
6
10
12
14
Map Level
70
73
77
79
81
Connections
Conservatory Map (Ritual)
✗
✗
✓
✓
✓
Crystal Ore Map (Ritual)
✓
✓
✓
✓
✗
Glacier Map (Ritual)
✓
✓
✓
✓
✓
Acquisition
Level: 69
Purchase Costs
Sell Price
1x Scroll Fragment
Miscellaneous
Item class: Maps
| | |
| --- | --- |
| Id | MapWorldsForkingRiver |
| Act | 11 |
| Area level | 70 |
| Bosses | Ormud, Fiend of the Flood |
| Area type tags | urban, swamp |
| Tags | map, area_with_water, einharmaps, map_area_with_open_water, river_area |
| | The Shaper: Embraced by mud. Grasped by roots. The careless are silently swallowed. |
Great stone towers tore at the natural order and were promptly put in their place.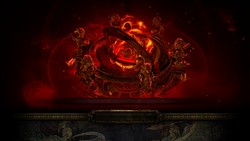 Layout
The layout apparently based on not released Path of Exile 2 content. The map featured an alternative version of The Dried Lake with portal to teleport to the bridge deck level, which resembled to The Aqueduct (The Blood Aqueduct). In the deck level there is a door to the boss arena.
The boss arena is a rectangular amphitheatre with rounded corners.
Encounters
Boss
Boss video
Items found in this area
Item
Hunter's Resolve

Hunter's Resolve

8

BowPrimed, curved and sleek.
Decisive and final.
For malice and righteousness.
There's but one solution.
1
Convoking Wand

Convoking Wand

Wand
Physical Damage: 30–56
Critical Strike Chance: 7.00%
Attacks per Second: 1.40
Weapon Range: 120Requires Level 72, 242 IntCan roll Minion Modifiers
72
Cerulean Ring

Cerulean Ring

Requires Level 80(8-10)% increased maximum Mana
80
Item acquisition
Upgrade paths
This item can be acquired through the following upgrade paths or vendor recipes:

Amount
Ingredient
General
Notes
Type
4
Boundless Realms

Boundless Realms

4

Map

Boundless is the distance between where we start and where we start again.

random Map
Automatic
6
The Explorer

The Explorer

6

Map
Corrupted

A map is only useful if you know where you stand.

random corrupted Map
Automatic
Unique versions
There are currently no unique items for this base item type.
Version history
| Version | Changes |
| --- | --- |
| 3.13.0 | |