This page is about the current map version. For other uses, see
Foundry Map (disambiguation)
.
Foundry Map
Map Level: 82
Map Tier: 15
Guild Character: à
Ever does man look to emulate his creator,
only to match his indifference.
Travel to this Map by using it in a personal Map Device. Maps can only be used once.
Acquisition
Level: 81
Vendor Prices
Vendor Offer
1x Scroll Fragment
Miscellaneous
Item class: Maps

Ever does man look to emulate his creator, only to match his indifference.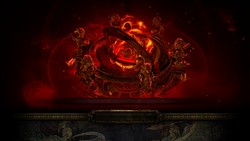 Layout
The map uses the same tileset as Heist's
Contract: LaboratoryContract: LaboratoryGive this Contract to Adiyah in the Rogue Harbour to embark on the Heist.
and
Blueprint: LaboratoryBlueprint: LaboratoryHeist Target: Replicas or Experimented Items
Area Level: (?-83)
Wings Revealed: (1-4)/(2-4)
Escape Routes Revealed: (2-8)/(4-8)
Reward Rooms Revealed: #/<random>
Requires <random Rogue skill> (Level (1-5))Use Intelligence to Reveal additional Wings and Rooms by talking to certain NPCs in the Rogue Harbour. Give this Blueprint to Adiyah to embark on the Grand Heist.
.
Encounters
Boss
Ciergan, Shadow Alchemist and its metamorph like The Shifting Ire
Boss video
Items found in this area
There are currently no items that have a drop table specific to this area.
Item acquisition
Upgrade paths
This item can be acquired through the following upgrade paths or vendor recipes:

Amount
Ingredient
General
Notes
Type
8
Lost Worlds

Lost Worlds

8

Map


Map Tier:

15

"There are worlds that lie beyond the edge of my page, the edge of my understanding. Worlds of wonder. Worlds of terror."
Aramil - Cartographer to Emperor Chitus
random tier 15 map
Automatic
7
The Trial

The Trial

7

Map


Map Tier:

15


Corrupted

You cannot journey to new lands until you have the courage to leave the safety of home.

random corrupted tier 15 map
Automatic
4
Boundless Realms

Boundless Realms

4

Map

Boundless is the distance between where we start and where we start again.

random map
Automatic
6
The Explorer

The Explorer

6

Map
Corrupted

A map is only useful if you know where you stand.

random corrupted map
Automatic
1
The Void

The Void

1

Reach into the Void and claim your prize.

random divination card set exchange
Automatic
Unique versions
There are currently no unique items for this base item type.
Version history
| Version | Changes |
| --- | --- |
| 3.13.0 | |