Fungal Hollow Map
Map Level: 78
Map Tier: 11
Guild Character: d
The water brings life,
the poison takes it away.
Travel to this Map by using it in a personal Map Device. Maps can only be used once.
Acquisition
Level: 77
Vendor Prices
Vendor Offer
1x Scroll Fragment
Miscellaneous
Item class: Maps
The water brings life, the poison takes it away.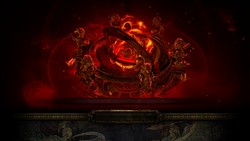 Fungal Hollow Map is a map area.
Layout
Encounters
Boss
Boss video
Items found in this area
Item
The Gambler

The Gambler

5

Divination Card

"I don't believe in karma. If it were real, I would never win."

1
The Betrayal

The Betrayal

9

Maligaro's Virtuosity

It's sad times we live in when a friendship has a price people are willing to pay.

1
Hunter's Resolve

Hunter's Resolve

8

BowPrimed, curved and sleek.
Decisive and final.
For malice and righteousness.
There's but one solution.
1
Her Mask

Her Mask

4

Sacrifice FragmentTo her beauty you submit,
lest your neck the great Queen slit.
1
Emperor of Purity

Emperor of Purity

7

Six-Link Holy Chainmail


Item Level:

60

True to his title,
Voll, newly crowned,
had many of the
Eternal Empire's signature
extravagances destroyed.
1
Marble Amulet

Marble Amulet

Requires Level 74Regenerate (1.2-1.6)% of Life per second
74
Opal Ring

Opal Ring

Requires Level 80(15-25)% increased Elemental Damage
80
Item acquisition
Upgrade paths
This item can be acquired through the following upgrade paths or vendor recipes:

Amount
Ingredient
General
Notes
Type
4
Boundless Realms

Boundless Realms

4

Map

Boundless is the distance between where we start and where we start again.

random map
Automatic
6
The Explorer

The Explorer

6

Map
Corrupted

A map is only useful if you know where you stand.

random corrupted map
Automatic
1
The Void

The Void

1

Reach into the Void and claim your prize.

random divination card set exchange
Automatic
Unique versions
There are currently no unique items for this base item type.
Version history
Version
Changes
3.5.0

The Springs map has been replaced by the Fungal Hollow map. Existing Springs maps will now open portals to Fungal Hollow.
The Atlas of Worlds has been shuffled. Most maps have changed tier and location within the Atlas.
Many map bosses have also shifted around. Some have been retired and replaced!

3.1.0

The entire Atlas has been reworked. Many map names have changed, as have their balance, tier and position on the Atlas. Many maps have also had their boss fights swapped or completely reworked.
The rules used to generate monsters in endgame maps have been significantly reworked and rebalanced around the rate at which we expect players to reliably clear out the map. In general, narrow, linear maps will contain fewer total monsters than maps with complex layouts. We will be closely monitoring and adjusting the balance of this change and expect to make further changes and improvements over time.

0.9.11

Added 45 Map areas, each with its own boss.