Gang's Momentum
Legion Boots
Quality: +20%
Armour: (291-312)
Energy Shield: (56-60)
Requires Level 58, 54 Str, 54 Int
(160-180)% increased Armour and Energy Shield
+(50-60)% to Fire Resistance
25% increased Movement Speed
(10-15)% chance to Ignite
(25-40)% increased Damage against Ignited Enemies
Become one with the unstoppable flame.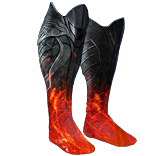 Vendor Prices
Vendor Offer
6x Alchemy Shard
9x Alteration Shard
Metadata
Item class: Boots
Gang's Momentum is a pair of unique
Legion BootsLegion BootsArmour: 104
Energy Shield: 20Requires Level 58, 54 Str, 54 Int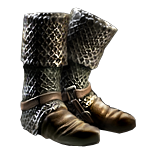 .
Item acquisition
Upgrade paths
This item can be acquired through the following upgrade paths or vendor recipes:

Amount
Ingredient
General
Notes
Type
7
Prejudice

Prejudice

7

Item


Influenced ItemOne who is blinded by their past may
only see a sliver of the present.
random influenced item
Automatic
8
Arrogance of the Vaal

Arrogance of the Vaal

8

Item


Two-Implicit


Corrupted

Discovery can lead to beauty, or it can lead to ruin.

random two-implicit corrupted item
Automatic
4
Jack in the Box

Jack in the Box

4

ItemTurn the crank,
close your eyes,
and pray to the gods
for a pleasant surprise.
random item
Automatic
1
Singular Incubator

Singular Incubator

Adds an incubated Unique item to an equippable item
Item drops after killing # monsters

Unique Item

Right click this item then left click an item to apply it. The Incubated item drops after killing a specific number of monsters.

random item
Automatic
1
The Void

The Void

1

Reach into the Void and claim your prize.

random divination card set exchange
Automatic
Legacy variants
Gang's Momentum has a legacy variant.
Version Discontinued
Modifiers
2.6.0




(160-180)% increased Armour and Energy Shield
+(50-60)% to Fire Resistance
25% increased Movement Speed

(5-7)% chance to Ignite

15% increased Damage against Ignited Enemies
Gallery
Version history
Version
Changes
2.6.0

Increased Chance to Ignite mod increased to 10-15%
Increased damage to Ignited Enemies mod increased to 25-40%.

2.3.0
1.2.0