Gisale, Thought Thief is the map boss of
Scriptorium MapScriptorium MapMap Level: 77
Map Tier: 10
Guild Character: ‡Knowledge balanced atop a vast pit. Hold on, or perish in the darkness of ignorance.Travel to this Map by using it in a personal Map Device. Maps can only be used once.
. She is based on the Act 4 Shavronne of Umbra fight, but with much larger boss arena.
Abilities
The boss use the same skill set as the act 4 variant. Read Shavronne of Umbra (unique monster)#Abilities and Strategy sections for details.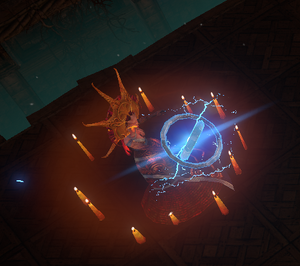 Monster stats
Items found from this monster
Item
The Aesthete

The Aesthete

8

Shavronne Item"Some see our mortal flesh as a limitation. I see it as an opportunity for vast, miraculous improvements."
- Shavronne of Umbra
1
The Offering

The Offering

8

Shavronne's Wrappings

Eternal beauty has a cost, one which Shavronne was happy to pay with the lives of others.

1
See also
Unbearable Whispers III

Unbearable Whispers III

The Aesthete holds the Whisperer's forbidden words safe, deep in the beast's belly.

You will slay Shavronne, and she will drop a tome.

Right-click to add this prophecy to your character.

Seal Cost:
7x Silver Coin
Version history
Version
Changes
3.6.3c

Fixed a bug where Gisale, Thought Thief in Scriptorium Map

Scriptorium Map

Map Level: 77
Map Tier: 10
Guild Character: ‡

Knowledge balanced atop a vast pit. Hold on, or perish in the darkness of ignorance.

Travel to this Map by using it in a personal Map Device. Maps can only be used once.

was unable to drop The Aesthete

The Aesthete

8

Shavronne Item"Some see our mortal flesh as a limitation. I see it as an opportunity for vast, miraculous improvements."
- Shavronne of Umbra or The Offering

The Offering

8

Shavronne's Wrappings

Eternal beauty has a cost, one which Shavronne was happy to pay with the lives of others.

divination cards.

3.1.1c
2.4.0