Glacier MapMap Level: 80
Map Tier: 13
Guild Character: !Travel to this Map by using it in the Templar Laboratory or a personal Map Device. Maps can only be used once.
Acquisition
Area level: 80
DROP DISABLEDVendor Offer
1x Scroll FragmentMetadata
Item class: Maps
Metadata ID: Metadata/Items/Maps/MapAtlasGorge
| | |
| --- | --- |
| Id | MapAtlasGorge |
| Act | 11 |
| Area level | 80 |
| Bosses | Rek'tar, the Breaker |
| Area type tags | mountain, cave |
| Tags | map, no_echo, einharmaps, snow_area |
| | The Shaper: So much power in the hands of so few. |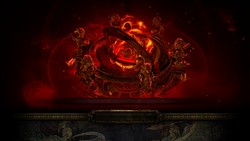 Gorge Map is a map based on the The Climb zone in Act 1.
Map Type: Outdoors
Boss Arena
Arena is located at the end of the map. Upon entering the boss room, you are ambushed by several unique Goatmen, who leap around several times before being instantly crushed to death by Rek'tar, who serves as the final boss of the map.
Boss
Rek'tar the Breaker, a unique variant of a Goatman.
Uses Leap Slam

Leap Slam

Attack, AoE, Movement, Travel, Slam, Melee
Level: (1-20)
Cost: 10 Mana
Radius: 15Requires Level 10

Jump into the air, damaging and knocking back enemies with your weapon where you land. Enemies you would land on are pushed out of the way. Requires an Axe, Mace, Sceptre, Sword or Staff. Cannot be supported by Multistrike.

Per 1% Quality:1

Superior

2

Anomalous

3

Divergent

4

Phantasmal

1% increased Stun Duration on enemies

1% increased Area of Effect

1% increased Damage

0.5% increased Attack Speed

Deals (100-150)% of Base Attack Damage
+0.55 seconds to Attack Time
(20-39)% increased Stun Duration against Enemies that are on Full Life
Damaging Hits always Stun Enemies that are on Full Life

Place into an item socket of the right colour to gain this skill. Right click to remove from a socket.
The unique Goatmen can be killed before they are crushed to death by Rek'tar. They drop good loot, but they must be killed very fast.
Items found in this area
Item
The Gambler

The Gambler

5

Divination Card

"I don't believe in karma. If it were real, I would never win."

1
The Encroaching Darkness

The Encroaching Darkness

8

Map
Corrupted

No matter where your dreams take you, Nightmare follows close behind.

1
The Mercenary

The Mercenary

5

Shield
Corrupted

Loyalty can be bought. Just make sure you know who the buyer is.

1
Heterochromia

Heterochromia

2

Two-Stone RingBlack and White, Silver and Gold
Let us see the world Unfold
Red and Blue, Yellow and Green
Let us remake it in colours Unseen
1
Lingering Remnants

Lingering Remnants

16

Vaal Temple Map


Item Level:

83


CorruptedNever dying, yet not living,
Endlessly they wander
beneath the harvest moon.
1
Item acquisition
This item is drop disabled.
Upgrade paths
This item can be acquired through the following upgrade paths or vendor recipes:

Amount
Ingredient
Type
3
Vault Map

Vault Map

Map Level: 79
Map Tier: 12
Guild Character: u

Travel to this Map by using it in the Templar Laboratory or a personal Map Device. Maps can only be used once.

Manual
3
Shaped Mud Geyser Map

Shaped Mud Geyser Map

Map Level: 79
Map Tier: 12
Guild Character: B

Travel to this Map by using it in the Templar Laboratory or a personal Map Device. Maps can only be used once.

Manual
Usage in upgrade paths
This item is used by upgrade paths or vendor recipes to create the following items:

Outcome
Amount
Ingredient
Type
Shrine Map

Shrine Map

Map Level: 81
Map Tier: 14
Guild Character: €

Travel to this Map by using it in the Templar Laboratory or a personal Map Device. Maps can only be used once.

3
Glacier Map

Glacier Map

Map Level: 80
Map Tier: 13
Guild Character: !

Travel to this Map by using it in the Templar Laboratory or a personal Map Device. Maps can only be used once.

Manual
Other versions
Version history
Version
Changes
3.5.0

The Gorge map has been replaced by the Glacier map. Existing Gorge maps will now open portals to Glacier.
(Not in patch note) The map has a new map icon.
The Atlas of Worlds has been shuffled. Most maps have changed tier and location within the Atlas.
Many map bosses have also shifted around. Some have been retired and replaced!

3.1.0

The entire Atlas has been reworked. Many map names have changed, as have their balance, tier and position on the Atlas. Many maps have also had their boss fights swapped or completely reworked.
The rules used to generate monsters in endgame maps have been significantly reworked and rebalanced around the rate at which we expect players to reliably clear out the map. In general, narrow, linear maps will contain fewer total monsters than maps with complex layouts. We will be closely monitoring and adjusting the balance of this change and expect to make further changes and improvements over time.

0.9.11