Graveyard Map
Map Level: 71
Map Tier: 4
Guild Character: Ú
Travel to this Map by using it in the Templar Laboratory or a personal Map Device. Maps can only be used once.
Acquisition
Area level: 71


DROP DISABLED
Vendor Prices
Vendor Offer
1x Scroll Fragment
Metadata
Item class: Maps
Metadata ID: Metadata/Items/Maps/MapAtlasGraveyard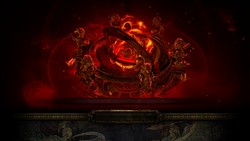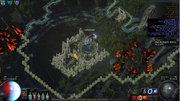 Graveyard Map (Atlas of Worlds) is a map based on the Fellshrine Ruins zone in Act 2.
Layout
Starting point is in the middle. Features moderately open areas broken up by large patches of ruins.
The boss arena can be anywhere on the map. It's a square crypt with columns to hide behind. Entrance seals when the boss is engaged and open when he's killed.
Encounter
Boss
Litanius, the Black Prayer is a unique Colossal Bonestalker. Uses powerful slam and creates enfeeble/vulnerability/temporal chains curse zones at 100/75/50% health. Those zones drift aimlessly around the room and expire after 60 seconds. When only one curse zone remains, Litanius refreshes one of them.
When cursed will use a nova skill that sends out 16 projectiles in a circle around him. The damage is based on the color of the gem the curse is from. Red curses will do fire, Green cold, and Blue lightning.
Boss video
Items found in this area
Item
The Gambler

The Gambler

5

Divination Card

"I don't believe in karma. If it were real, I would never win."

1
The Trial

The Trial

7

Map


Map Tier:

15


Corrupted

You cannot journey to new lands until you have the courage to leave the safety of home.

1
Her Mask

Her Mask

4

Sacrifice FragmentTo her beauty you submit,
lest your neck the great Queen slit.
1
Lysah's Respite

Lysah's Respite

6

Agate Amulet
CorruptedSo many memories,
so much pain in
such a small token.
Drown it in blood
so you can forget.
1
The Coming Storm

The Coming Storm

8

Lightning CoilNo man may hope to turn back the storm.
You can only hope you do not attract its ire.
1
Call to the First Ones

Call to the First Ones

5

Tier 1 Talisman
Corrupted

The Ezomyte, desperate for aid, cried out to the gods.

1
Struck by Lightning

Struck by Lightning

3

Electrocuting Jewellery


Item Level:

76

'Lightning never strikes the same place twice'
is really just wishful thinking.
1
Item acquisition
This item is drop disabled.
Upgrade paths
This item can be acquired through the following upgrade paths or vendor recipes:

Amount
Ingredient
Type
3
Toxic Sewer Map

Toxic Sewer Map

Map Level: 70
Map Tier: 3
Guild Character: S

Travel to this Map by using it in the Templar Laboratory or a personal Map Device. Maps can only be used once.

Manual
Unique versions
Item
Hallowed GroundHallowed Ground
Graveyard MapMap Level: (70-79)
Map Tier: 4
Guild Character: Ð
Item Quantity: +100%
Item Rarity: +100%Monster Level: (70-79)
Unique Boss drops 3 additional Maps
Unique Boss gives 2000% increased Experience
0.5 Flask Charges recovered every 3 secondsSome dead have long envied the living.
When given the chance, they take from us what they can.
So we offer our suffrage.
In return, they give only suffering.

Travel to this Map by using it in the Templar Laboratory or a personal Map Device. Maps can only be used once.

1
Other versions
Version history
Version
Changes
3.9.0

The Atlas of Worlds has been reworked. You now start at the centre and will work your way outwards as you explore a new storyline.
Added a new mechanic - Watchstones: These can only be obtained by defeating one of the new Atlas bosses. They can be used to raise the tier of all maps in a particular region of the Atlas, causing all maps of those base types to drop at the new higher tier.

3.7.0

The boss fight of the Graveyard Map has been completely reworked.

3.5.0

The Atlas of Worlds has been shuffled. Most maps have changed tier and location within the Atlas.
Many map bosses have also shifted around. Some have been retired and replaced!
(not in patch notes) Maps now shuffle each leagues.

3.1.0

The entire Atlas has been reworked. Many map names have changed, as have their balance, tier and position on the Atlas. Many maps have also had their boss fights swapped or completely reworked.
The rules used to generate monsters in endgame maps have been significantly reworked and rebalanced around the rate at which we expect players to reliably clear out the map. In general, narrow, linear maps will contain fewer total monsters than maps with complex layouts. We will be closely monitoring and adjusting the balance of this change and expect to make further changes and improvements over time.
(not in patch notes) Bosses of Cemetery Map had swapped to Graveyard Map: Thunderskull, Champion of Frost and Steelpoint the Avenger

Unknown

Merveil no longer the boss of Graveyard Map.

1.0.0e

Fixed a bug where the end-game Graveyard Map could spawn its boss (Merveil) in an unreachable location.

0.10.0

Start of open beta. Old map item were wiped from the server data. Map progress is re-tiered. Area level had changed to 70 (T5).

0.9.11

Introduced to the game. Initially, the area level is 64 (T5)