Graveyard Map
Map Level: 70
Map Tier: 3
Guild Character: N
Unknown legacies.
Untold stories.
Travel to this Map by using it in the Templar Laboratory or a personal Map Device. Maps can only be used once.
Acquisition
Area level: 69


DROP DISABLED
Vendor Prices
Vendor Offer
1x Scroll Fragment
Metadata
Item class: Maps
Unknown legacies. Untold stories.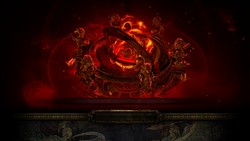 Layout
Encounters
Boss
Boss video
Items found in this area
Item
Hope

Hope

5

Prismatic Ring
Corrupted

The others succumbed to madness and depravity, but Lori fought on. Alone in the darkness, she could still see the dull light of hope's distant dawn.

1
The Gambler

The Gambler

5

Divination Card

"I don't believe in karma. If it were real, I would never win."

1
The Union

The Union

7

10x Gemcutter's PrismOn the 21st of Eterni,
two become one,
their light outshines
the setting sun.
1
Her Mask

Her Mask

4

Sacrifice FragmentTo her beauty you submit,
lest your neck the great Queen slit.
1
Gripped Gloves

Gripped Gloves

Evasion: 220Requires Level 70, 95 Dex(14-18)% increased Projectile Attack Damage
70
Spiked Gloves

Spiked Gloves

Armour: 220Requires Level 70, 95 Str

(16-20)% increased Melee Damage

70
The Coming Storm

The Coming Storm

8

Lightning CoilNo man may hope to turn back the storm.
You can only hope you do not attract its ire.
1
Struck by Lightning

Struck by Lightning

3

Electrocuting Jewellery


Item Level:

76

'Lightning never strikes the same place twice'
is really just wishful thinking.
1
Three Voices

Three Voices

3

3x Essence

The village elders had a curious rule: If you hear three voices scream for aid, flee as fast as you can.

1
Cerulean Ring

Cerulean Ring

Requires Level 80(8-10)% increased maximum Mana
80
Cursed Words

Cursed Words

13

Maw of Mischief

If you look hard enough for hidden meaning, you will find it.

1
Item acquisition
This item is drop disabled.
Unique versions
There are currently no unique items for this base item type.
Version history
Version
Changes
3.9.0

The Atlas of Worlds has been reworked. You now start at the centre and will work your way outwards as you explore a new storyline.
Added a new mechanic - Watchstones: These can only be obtained by defeating one of the new Atlas bosses. They can be used to raise the tier of all maps in a particular region of the Atlas, causing all maps of those base types to drop at the new higher tier.

3.7.0

The boss fight of the Graveyard Map has been completely reworked.

3.5.0

The Atlas of Worlds has been shuffled. Most maps have changed tier and location within the Atlas.
Many map bosses have also shifted around. Some have been retired and replaced!
(not in patch notes) Maps now shuffle each leagues.

3.1.0

The entire Atlas has been reworked. Many map names have changed, as have their balance, tier and position on the Atlas. Many maps have also had their boss fights swapped or completely reworked.
The rules used to generate monsters in endgame maps have been significantly reworked and rebalanced around the rate at which we expect players to reliably clear out the map. In general, narrow, linear maps will contain fewer total monsters than maps with complex layouts. We will be closely monitoring and adjusting the balance of this change and expect to make further changes and improvements over time.
(not in patch notes) Bosses of Cemetery Map had swapped to Graveyard Map: Thunderskull, Champion of Frost and Steelpoint the Avenger

Unknown

Merveil no longer the boss of Graveyard Map.

1.0.0e

Fixed a bug where the end-game Graveyard Map could spawn its boss (Merveil) in an unreachable location.

0.10.0

Start of open beta. Old map item were wiped from the server data. Map progress is re-tiered. Area level had changed to 70 (T5).

0.9.11

Introduced to the game. Initially, the area level is 64 (T5)