Hateforge
Ancient Gauntlets
Quality: +20%
Armour: 184
Requires Level 72, 68 Str
Socketed Gems are Supported by Level 30 Rage
(120-150)% increased Armour
(10-25)% reduced Rage Cost of Skills
Vaal Attack Skills you Use yourself Cost Rage instead of requiring Souls
You cannot gain Rage during Soul Gain Prevention
The first Karui born on the fringes of the Vaal empire developed a blood fever born of corruption.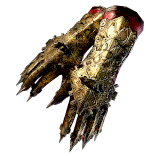 Acquisition
League(s): Ultimatum
Vendor Prices
Vendor Offer
1x Scroll Fragment
Metadata
Item class: Gloves
Hateforge is a pair of unique
Ancient GauntletsAncient GauntletsArmour: 154Requires Level 47, 68 Str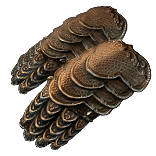 .
Mechanics
Applicable skill gems socketed in this item are supported by level 30 Rage Support

Rage Support

Support, Melee, Attack
Icon:

g


Level: (1-20)
Cost & Reservation Multiplier: 130%Requires Level 18

Supports melee attack skills. Minions cannot gain rage.

Per 1% Quality:1

Superior

2

Anomalous

3

Divergent

Supported Skills deal 0.5% increased Attack Damage

Supported Skills have 0.5% increased Attack Speed while you have at least 20 Rage

1% chance to gain 1 Rage when you use Supported Skills

Supported Skills grant 1 Rage on Melee Hit, no more than once every 0.4 seconds
Supported Attacks deal (2-39) to (4-72) added Physical Damage with Weapons while you have at least 10 Rage
Supported Attacks deal (1-4) to (2-7) added Physical Damage with Weapons per 10 Rage

This is a Support Gem. It does not grant a bonus to your character, but to skills in sockets connected to it. Place into an item socket connected to a socket containing the Active Skill Gem you wish to augment. Right click to remove from a socket.

. All support stats are accounted for, including the mana multiplier.
Item acquisition
| | |
| --- | --- |
| | Following the version 3.14.0 changes, it is unclear exactly which league-specific items have been added to the core drop pool. If this item does not exist in the core drop pool, then it can only drop in areas with the league flag for Ultimatum active. League-specific items can also be acquired in other ways. |
Upgrade paths
This item can be acquired through the following upgrade paths or vendor recipes:

Amount
Ingredient
General
Notes
Type
5
Mitts

Mitts

5

Gloves

Those whose hands are their livelihood know the importance of keeping them safe and warm.

random gloves
Automatic
9
Fateful Meeting

Fateful Meeting

9

League-Specific Item




Double-Influenced Item




Item Level:

97




Two-Implicit


CorruptedSome people act as beacons,
illuminating the path for others.
I was lucky to meet one such person.

- Anton to Zhenya
random two-implicit corrupted level 97 league-specific item
Automatic
7
Prejudice

Prejudice

7

Item


Influenced ItemOne who is blinded by their past may
only see a sliver of the present.
random influenced item
Automatic
8
Arrogance of the Vaal

Arrogance of the Vaal

8

Item


Two-Implicit


Corrupted

Discovery can lead to beauty, or it can lead to ruin.

random two-implicit corrupted item
Automatic
10
Time-Lost Relic

Time-Lost Relic

10

League-Specific Item

Time cannot wash away that which cannot be forgotten.

random league-specific item
Automatic
1
Time-Lost Incubator

Time-Lost Incubator

Adds an incubated League-specific Unique item to an equippable item
Item drops after killing # monsters

League-specific Unique Item

Right click this item then left click an item to apply it. The Incubated item drops after killing a specific number of monsters.

random league-specific item
Automatic
4
Jack in the Box

Jack in the Box

4

ItemTurn the crank,
close your eyes,
and pray to the gods
for a pleasant surprise.
random item
Automatic
1
Singular Incubator

Singular Incubator

Adds an incubated Unique item to an equippable item
Item drops after killing # monsters

Unique Item

Right click this item then left click an item to apply it. The Incubated item drops after killing a specific number of monsters.

random item
Automatic
1
The Void

The Void

1

Reach into the Void and claim your prize.

random divination card set exchange
Automatic
Version history
Version
Changes
3.15.0
3.14.2

Changed the Hateforge unique gloves to allow them to affect Vaal attacks used by traps and mines again. While these mechanics bypass the intended restrictions of Vaal skills in a similar way to totems, those cases are less abusable and the initial fix prevented interactions that players were using in the league, breaking those builds. This stat will return to preventing use with traps and mines in 3.15.
(Not documented in patch note) The mod wording has changed to

Vaal Attack Skills not Used by Totems Cost Rage instead of requiring Souls

3.14.1c

Fixed an oversight where the Hateforge unique gloves were incorrectly applying to skills that were supported by totems, traps and mines, which allowed Vaal skills to be used freely with no cost or limit. We're currently trying to come up with a solution to allow these gloves to work with traps and mines again, if possible.[1]
(Not documented in patch note) The mod's wording has changed from

Vaal Attack Skills Cost Rage instead of requiring Souls to Use

to

Vaal Attack Skills you use yourself Cost Rage instead of requiring Souls to Use

[2]

3.14.0
References